Search for 'Graeme Revell'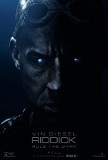 Even after nine years, you can't keep a good man ... Take a deep breath and prepare to suspend your ... It's great fun, but certainly not great art. From ... Once, Arnold Schwarzenegger strode across the ... Street Kings has the look and feel of an '80s cop ... First and foremost, Harsh Times is a character ... I'll never understand why studios sometimes choose... The Rock's on a roll. Anyone who doubts Dwayne ... Sin City is the most visually inventive comic book... Talk about a movie with an identity problem! Man ...