Search for 'Graeme Revell'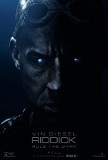 Even after nine years, you can't keep a good man ... I'll never understand why studios sometimes choose... The Rock's on a roll. Anyone who doubts Dwayne ... Sin City is the most visually inventive comic book... Talk about a movie with an identity problem! Man ... December 30, 1999: the penultimate day of the ... What is the world coming to when the film ... It's not hard to argue that Edward Zwick is one of... In the Pantheon of Marvel Comics superheroes, ... It's not Casablanca, or even Die Hard, for that ...