Movies starring Alain Chabat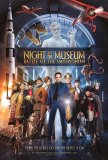 Night at the Museum: Battle of the Smithsonian
The best thing that can be said about the second Night at the Museum (which bears the unnecessarily long full title of Night at the Museum: Battle of the Smithsonian) is that it's harmless. And pointless. And dumb. This is a perfect example of a ... Science of Sleep, The
The Science of Sleep is director Michael Gondry's feature follow-up to Eternal Sunshine of the Spotless Mind and, in many ways, it feels like an inferior cannibalization of the 2004 movie. Both movies spend lengthy sequences inside the protagonist...