Movies starring Bridget Moynahan I, Robot
When all of the dust from 2004's crumbling blockbusters has settled, I, Robot will likely emerge as the strongest mainstream motion picture of the summer. The best big-budget science fiction film since Minority Report, I, Robot gets high marks not...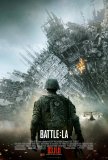 Battle Los Angeles
Perhaps it's a backhanded compliment to acknowledge that, as would-be "event" films about alien invasions go, Battle Los Angeles is superior to both Independence Day and Skyline. Nevertheless, the movie is likely to miss the mark for anyone in sear... Serendipity
Serendipity is a romantic comedy from British director Peter Chelsom (Hear My Song, The Mighty) that pairs quirky, likable John Cusack with rising star Kate Beckinsale. All of the usual adjectives apply: sweet, cute, delightful, romantic, etc. Alas... Coyote Ugly
Uh-oh, this doesn't look promising. Oh, wait a minute, the movie hasn't even started yet. As absurd as it might sound, there's a strange synergy between very bad movies and very good ones. That's because films on either extreme of the quality ...