Movies starring Camilla Belle 10,000 B.C.
I suppose there's some entertainment value to be had from the sheer badness of 10,000 B.C. The movie takes itself serious enough that, viewed from a warped perspective in a state of inebriation, it might actually be fun. Seen in more mundane circ... Ballad of Jack and Rose, The
The Ballad of Jack and Rose is a low-key character study about a father and daughter whose idyllic lifestyle is interrupted by the arrival of three newcomers. Not much happens in this film beyond the evolution of the characters and their relationshi...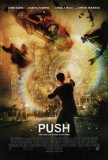 Push
With only one franchise superhero making a motion appearance in 2009 (Wolverine), Push might be among the best available options for fans of the burgeoning movie genre. An original concept that isn't directly based on any comic books or graphic no... When a Stranger Calls
Spoiler Alert: This movie contains spoilers for those who haven't seen the 1979 movie or the trailer for the 2006 version (which gives away what I'm going to reveal). Something went terribly wrong during the production of When a Stranger Calls...