Movies starring Elizabeth Reaser Family Stone, The
It's a tough thing for a dysfunctional-family-at-Christmas movie to avoid doses of melodrama, and it's fair to say that The Family Stone contains its share. But the nice thing about the movie is that it avoids overt manipulation. There's some - i...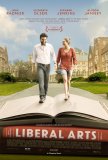 Liberal Arts
Liberal Arts is a parfait - a light, enjoyable concoction that goes down easily but doesn't linger. The movie is great "in the moment" but may be difficult to recall with any specificity after time has elapsed. The film has a friendly, sophisticat... Puccini for Beginners
Puccini for Beginners has a lot less to do with opera than it has to do with a sit-com view of life in the Big City. Not that the approach is inherently bad, and director Maria Maggenti has fashioned a reasonably entertaining movie that borrows he... Stay
Going into Stay, I was aware that the director was Marc Forster, the man who made Monster's Ball and Finding Neverland. However, even with that knowledge, it wouldn't have surprised me to see David Lynch's name during the closing credits. Stay is...
Young Adult
Diablo Cody has a distinctive voice. You can hear it in Juno. You can hear it in Jennifer's Body. You can hear it in United States of Tara. And you can hear it in Young Adult. After a while, however, the uniqueness of what Cody has to say and how ...