Movies starring Jay Chou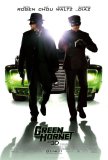 Green Hornet, The
Seen in standard (non-IMAX) 3-D. After several years of minimal screen presence, superheroes are coming back to multiplexes in 2011 with a vengeance. First out of the starting gate is Michael Gondry's re-imagination of The Green Hornet, a proper... Curse of the Golden Flower
Curse of the Golden Flower is director Zhang Yimou's ambitious attempt to blend martial arts action with Shakespearean melodrama. It's not a perfect marriage but it offers two hours of solidly over-the-top entertainment featuring incredible visual...