Movies starring Laurence Olivier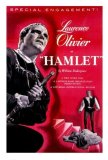 Hamlet
A glance at the IMDb listing for "Hamlet" turns up in excess of 70 entries, which is an indication of how popular a subject matter this most honored of Shakespeare's plays has been for cinematic adaptation. From the early silent era (1900) until t... Sky Captain and the World of Tomorrow
Sky Captain and the World of Tomorrow is about 70% style and 30% substance. It has a plot and characters, but those are almost beside the point. They are devices that function as hooks upon which first-time director Kerry Conran can hang his amaz... Sleuth
Sleuth, a 1972 "thinking person's thriller," is a rich, engaging motion picture with surprises lurking in the shadows behind every narrative corner. The film opens with a shot of Michael Caine making his way through a hedge labyrinth in search... Rebecca
Spoilers Ahead! The movie is 68 years old and it's based on a novel that's even older, but one never knows… It is perhaps the height of irony that the only film directed by the "Master of Suspense" to win a Best Picture Oscar is a gothic melo...