Movies starring Mena Suvari American Beauty
Over the years, many films have taken a dark look at the supposedly perfect ideal of a white picket fence, a little house, and a nuclear family. For many, the suburban life is the American dream. For others, however, it can turn into a twisted ni... American Pie
With American Pie, it's a case of the reality of the situation being dwarfed by the hype. Word of mouth has this pegged this as the most raunchy movie of the summer - a film that embraces taboos and pushes the limits of the MPAA's R rating (indeed... American Pie 2
In the case of American Pie, more is less. As in less funny, less sexy, and much, much less enjoyable. This sequel, like so many that have preceded it this year, exists exclusively because its forerunner made a lot of money - and the lack of insp...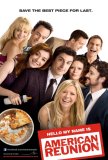 American Reunion
American Pie remains a touchstone of '90s comedies in particular and raunchy teen sex comedies in general. Viewed today, it has retained an element of its initial breezy freshness, although a progression of envelope-pushing comedies have made it ea... Domino
I'm sure the story of bounty-hunter Domino Harvey would make for compelling cinema if only Tony Scott had decided to film it without the masturbatory excesses that are evident in Domino. Over-the-top doesn't begin to describe Scott's off-putting, ... Loser
Calling a motion picture Loser is a brave move because it places the film in a precarious position if the critical reaction is less enthusiastic than the producers expect. In this case, however, that's not an issue; this movie succeeds in a modest... Rumor Has It...
Rumor has it that Rumor Has It… experienced a rocky production history. First-time director Ted Griffin was removed from his position just as production was beginning, necessitating an eleventh-hour change. The cinematographer was replaced, all...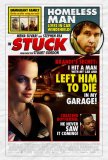 Stuck
Stuck, like many in the thriller/comedy genre, has difficulty handling the tonal shifts between humor and suspense that exist within its framework. That's not to say the movie fails - there are times when it is bitingly funny and times when its bl...