Movies starring Patricia Arquette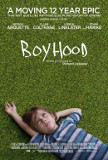 Boyhood
One thing becomes clear upon watching Boyhood: director Richard Linklater is fascinated by the concept of following a fictional character through real time. Most filmmakers lack the patience to attempt something like this. In spirit, if not in the ... Ed Wood
A title like "the Worst Director of All Time" virtually assures that people will remember Ed Wood, although perhaps not in exactly the way the filmmaker would have preferred. Tim Burton, with a biopic that is as much a parody as a tribute, has bro... Ethan Frome
When we first meet Ethan Frome (Liam Neeson), he is a broken man hobbling around town. The new preacher takes an interest in him and soon learns the tragic tale of Frome's life. Years ago, as a younger and more hale man, Ethan married Zeena (Joan... Fast Food Nation
The idea underlying Fast Food Nation is intriguing: take the premise of the best-selling non-fiction book by Eric Schlosser and convert it into the backstory of a fictional film. Where director Richard Linklater runs into trouble is in the executi... Flirting with Disaster
Different parts of the female anatomy fascinate various men. Some are drawn to legs, others to breasts, and others to hips. But Tony, one of the many characters to join the bizarre cross-country trek chronicled in Flirting with Disaster, is an ar... Lost Highway
Perhaps it's redundant to say that a David Lynch movie is weird (actually, "incomprehensible" might be a better word). Don't ask me to explain Lost Highway; I'm not sure I can. For that matter, don't ask Lynch, either. All he's willing to sa... True Romance
It's dangerous to live in Quentin Tarantino's world, as Clarence Worley (Christian Slater) discovers in the explosive True Romance. When Clarence, a loner with a love of low-budget Kung Fu movies, meets Alabama Whitman (Patricia Arquette), a callg...