Movies starring Sam Huntington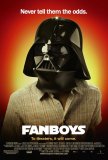 Fanboys
I wish I could be more positive about Fanboys because I understand what the filmmakers are trying to do. Their goal is to provide a Valentine to fanboys and fangirls worldwide - all those who devote themselves to an element of pop culture and ofte... Freshman Orientation
For some movies, timing is everything, but that's one thing Freshman Orientation doesn't have going for it. After languishing in distribution limbo for an astounding three and one-half years (it premiered under the name Home of Phobia at the 2004 ... Superman Returns
At the end of Superman II, the producers promised "Coming Soon: Superman III." It has taken 26 years for that promise to be fulfilled. To be sure, there were movies in the 1980s called Superman III and Superman IV, but those were bad jokes masquera...