Movies starring Sean Young Ace Ventura: Pet Detective
Certain ideas are excellent material for short features on programs like Saturday Night Live or In Living Color. Properly padded, it's possible that a few of those premises could even make passable 1/2 hour television programs. However, stretchin... Blade Runner
Spoiler Alert: This review freely discusses elements from throughout the movie's plot. Those who have not seen the movie and don't want to know about things in advance are encouraged to return after having seen the film. In the nearly 25 years ...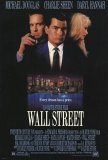 Wall Street
One phrase - perhaps the best-known one from any 1987 release - encapsulates a critical component of '80s culture that once again crept to the fore in the late-'00s. I am, of course, referring to Gorden Gekko's "Greed… is good." A vice transfor...