Movies starring Sergio Castellitto Mostly Martha
Whenever a movie is released that seeks to tantalize the taste buds through the sheer force of its visual imagery, most critics feel duty-bound to advise potential viewers not to see the film on an empty stomach. That warning applies here, althoug...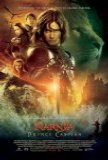 Chronicles of Narnia, The: Prince Caspian
For the second installment of The Chronicles of Narnia, director Andrew Adamson has caught a severe case of Lord of the Rings-itis. While the 2005 adaptation of The Lion, the Witch and the Wardrobe kept close to the tone of the book, Prince Caspia...