Movies starring Sid Haig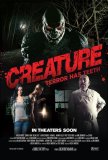 Creature
Terror Has Teeth! As taglines go, that pretty much tells you what to expect. Creature, a no-budget horror movie whose financial limitations are repeatedly on display, tries to get by with an oversaturation of gore and camp. Lovers of cheap, grad... Devil's Rejects, The
When a movie is this bad, it's hard to adequately describe its awfulness in words. The temptation exists to write something along the lines of: "Something this horrible has to be seen to be believed." Of course, that kind of advice would lead to ...