Movies starring Sonia Braga Hottest State, The
Like Woody Allen's Annie Hall but without the humor, The Hottest State tells the full story of a relationship: the first meeting, the Honeymoon phase, then the bitter deterioration of love into anger and recrimination. Ethan Hawke has taken his 19...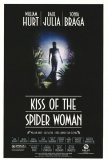 Kiss of the Spider Woman
Kiss of the Spider Woman is a fascinating character study - an exploration into how a bond of kinship can develop between two very different men, each of whose present circumstances is erected on a foundation of secrets. The film, based on the nov...