Movies starring Taye Diggs Best Man, The
The Best Man is not what it initially seems to be. Despite starting out with all the earmarks of a fairly ordinary romantic comedy, the project develops into a surprisingly effective look at a man's quest for rebirth after events topple him from a... Go
Go is the latest piece of high-octane eye candy aimed squarely at members of the infamous Generation X. Fast-paced and often witty, but ultimately vapid, Go borrows heavily both in rhythm and approach from Quentin Tarantino's Pulp Fiction. And, s...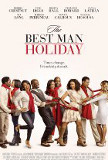 Best Man Holiday, The
In the normal course of things, a sequel would be unlikely for a 14-year old film whose box office performance, while profitable, wasn't exceptional. (The Best Man, made for about $9 million, grossed north of 3.5 times that during its theatrical ru... RENT
Memo to director Chris Columbus: In most cases, it's a bad idea for a movie to be a direct representation of a play. "Opening up" the setting is sometimes not all that's necessary to make a stage production into something cinematic. In a theater...