Movies directed by Andy Fickman She's the Man
"Be not afraid of greatness: some are born great, some achieve greatness and some have greatness thrust upon them". - Twelfth Night, Act II, Scene V That single quotation, and a few of the names and plot points are all that remain of Shakespeare...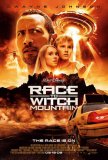 Race to Witch Mountain
Race to Witch Mountain is the latest Disney "made for kids only" effort. It takes all the usual Disney hooks - cute children, a likeable protagonist, lame action and lamer jokes, some special effects, poker-faced bad guys, and an animal - and thro...