Movies in the Action/Science Fiction genre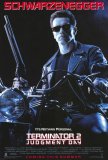 Terminator 2: Judgment Day
When James Cameron crafted The Terminator in 1984, the concept of a sequel was far from his thoughts. The film's box office performance, while more than justifying the movie's understated $6.5 million budget, did not result in studio executives ru... Terminator 3: Rise of the Machines
Terminator 3 is the summer movie of 2003 that hard-core action fans have been awaiting. It's not ponderous and incomplete like The Matrix Reloaded. It's not steeped in characterization and modern-day mythology like Hulk. And it's not vapid and f...