Movies with music written by Randy Edelman Gettysburg
Gettysburg, Ronald F. Maxwell's re-telling of four hot days during the summer of 1863 (based on the Pulitzer Prize winning novel The Killer Angels by Michael Shaara), is a spectacle that gathers power and momentum with every scene. Originally slat... Last of the Mohicans, The
There is so little wrong with this film that I'll get the incidental negatives out of the way first. The introductory moments are somewhat confusing, and it takes about fifteen or twenty minutes to get the characters and situations straight. Made...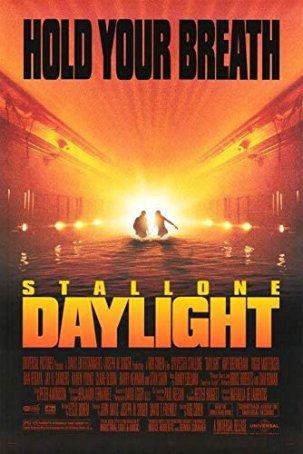 Daylight
Daylight is an action picture without a villain. Frankly, it doesn't have much of a plot, either. Or characters, for that matter. In fact, the so-called dramatic elements of this movie are so shaky that you wonder if the filmmakers spent all o... 27 Dresses
I have no idea why the people who decide such matters have elected to release this perfect Valentine's Day movie in the middle of January. Perhaps it's counter-programming for Cloverfield. Whatever the case, 27 Dresses is an illustration of what ... While You Were Sleeping
While it's true that making good romantic comedies is still something of an art, producing average films of the genre has become a science. Take a little chemistry, a portion of physics, some basic biology, and mix them together according to a wel... EDtv
JenniCam. August Live. BaddGrrl Live. GiggleCam. These are just a few examples of one of the Internet's hottest commodities: cam sites - web pages designed by exhibitionists with voyeurs in mind. Sure, some of them are just thinly-disguised s... Mask, The
I never thought it could happen. Jim Carrey (star of Ace Ventura: Pet Detective) upstaged -- and not once, but twice! While it's true that The Mask is another vehicle for the rubber-featured modern-day amalgamation of Jerry Lewis and the Three St... Dragonheart
In the early summer sweepstakes, Warner Brothers has weighed in with Twister, Paramount with Mission Impossible, and now Universal with Dragonheart, director Rob Cohen's swords-and-sorcery saga. No prizes for guessing which is most likely to be th... Six Days, Seven Nights
The scenery is great, the actors are appealing, and the special effects are suitably low-key… all that's missing from Ivan Reitman's Six Days, Seven Nights is a plot with a moment's originality. This movie takes chunks from Romancing the Sto... Whole Nine Yards, The
The Whole Nine Yards suffers from split personality syndrome - it's a strange hybrid of film noir and comedy. At first, this might not seem like an unusual approach, until you recall that most movies of this ilk are satires. That's not what's goi...