Search for Rush August Rush
August Rush isn't just a bad movie - it's an aggressively bad movie. There are times when it tips the scales of absurdity and becomes almost comical. The film intends to be a modern day fable about fate and music and Dickensian characters but the... Blue Crush
I suppose Blue Crush can be viewed as a "guilty pleasure", with an emphasis on the first word of that phrase over the second one. The movie, the latest directorial effort from John Stockwell (Crazy/Beautiful), is redeemed to one degree or another ...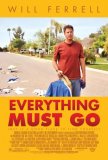 Everything Must Go
As their careers develop, many comedians yearn to cross over into serious dramatic roles, if only on occasion. This has happened with John Cleese, Steve Martin, Robin Williams, Tom Hanks, Jim Carrey, and Adam Sandler. Some are more successful than... Glory
Glory is, without question, one of the best movies ever made about the American Civil War (a.k.a. "The War Between the States"). The reason isn't just the way in which Kevin Jarre's script illuminates a frequent oversight of history books, nor is ...
Time to have a little fun...One of the defining characteristics of young romance is the crush. I'd venture to say that 99.9% of those reading this have experienced at least one crush and, if you're like me, the number is much higher. My view of a ...