Movies with screenplay written by Mike Myers Austin Powers: International Man of Mystery
Through the years, there have been many big-screen attempts to satirize James Bond, from the terrible misfire Casino Royale to the recent, even-worse Spy Hard. In between, even the "official" Bond series got in on the act -- during the Roger Moore... Austin Powers 2: The Spy Who Shagged Me
The title character's "mojo" isn't the only thing missing from Austin Powers: The Spy Who Shagged Me. Also absent are the freshness and spontaneity that characterized the original. Those characteristics have been replaced by lame and obvious atte... Austin Powers in Goldmember
When Mike Myers and Jay Roach introduced the world to Austin Powers: International Man of Mystery in 1997, their intention was to make a one-off spoof of James Bond movies and '60s culture. The movie did okay at the box office, then exploded in po...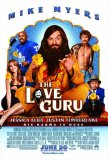 Love Guru, The
To some, Mike Myers is Wayne. To others, he is Austin Powers or the voice of Shrek. It's doubtful that he will be Guru Pitka to many. The Love Guru, Myers' latest film and his most recent live-action endeavor since The Cat in the Hat, is as unmem...