Brick Lane (United Kingdom, 2007)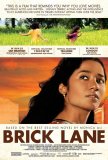 Be it ever so humble, there's no place like home - except when you can't figure out where "home" is. That uncertainty underlies the dynamics of Sarah Gavron's Brick Lane, an adaptation of the novel by Monica Ali. However, while the film tackles the issue of what the concept of "home" means for expats and emigrants, it can also be seen as a coming-of-age story for a woman in her mid-30s. And, to add another layer to the story, the events chronicled during the course of Brick Lane occur in 2001, with the 9/11 attacks transpiring midway through and having a profound impact on the lives of the Muslim characters.
As a girl in Bangladesh, Nazneen (Tannishtha Chatterjee), was inseparable from her younger sister until, at the age of 17, she was married to Chanu Ahmed (Satish Kaushik), an Indian man living in London. Since then, her life has been that of a dutiful wife and mother. She has two school-age daughters, including the rebellious teenager Shahana (Naeema Begum), but the blight on her life is that her first-born son died in infancy. Her husband is obsessed with getting a promotion and barely acknowledges Nazneen except for perfunctory, passionless sex with the lights out. She spends her days at home doing little and dreaming of returning "home" to see her sister. In order to make enough money to purchase the plane ticket, she obtains a second-hand sewing machine and begins work as a seamstress. That's how she meets Karim (Christopher Simpson), a fiery young man who is smitten with her, and she with him.
Most coming-of-age stories are about adolescent boys and girls discovering who they are on the road to adulthood. For Nazneen, cultural issues have kept her emotional and social growth stunted until events occur while she's in her mid-30s to open her eyes to the wider world. Karim's entrance into her life comes like a thunderbolt. The ice around her heart thaws and she experiences for the first time the passion that her sister writes about in her letters. For Nazneen, the affair with Karim represents a stepping stone by which she re-defines her relationship with her husband and children. She learns how to dream again - something lost since childhood - and finds a way to encourage her children to embrace their own hopes.
There's a dark side to the film, as well - one that confronts racial intolerance and cross-cultural conflict. In the wake of 9/11, anti-Muslim feelings in Great Britain are at an all-time high. White supremacist groups are gathering influence. To combat this, Muslims band together with some previously restrained individuals becoming militant. Brick Lane does not delve deeply into this complex situation but it becomes the backdrop against which the second half of the film unfolds. For Nazneen, it also provides a clear choice: the fiery, increasingly angry approach of Karim or the moderate ways of Chanu. In selecting between these two very different men, Nazneen's decision surprises even her.
As is almost always the case with U.K.-made films, the acting is of the highest caliber. Neither of the leads is likely to be familiar to American viewers, although Satish Kaushik has a long resume in Bollywood titles. Tannishtha Chatterjee is a strong, convincing presence whose character traverses a believable arc. Naeema Begum, making her feature debut as Shahana, holds her own in some of the film's pivotal sequences, including a tense family confrontation that brings emotions bubbling to the surface.
As cultures mix and match on either side of the Atlantic, stories like the one told in Brick Lane are more common. Nations with relatively open borders such as the United States and the United Kingdom are melting pots more than ever, but cultural differences such as those highlighted in this film remind us that a change in geography, while potentially providing greater opportunities, can also result in a sense of alienation. The characters in Brick Lane must define themselves and determine where "home" is before they can move forward, and that dramatic conflict lies at the heart of this motion picture.
---
Brick Lane (United Kingdom, 2007)
---
Three...better movies of this genre
worse movies of this genre
Three...better movies of Tannishtha Chatterjee
(There are no more better movies of Tannishtha Chatterjee)
worse movies of Tannishtha Chatterjee
(There are no more worst movies of Tannishtha Chatterjee)
Three...better movies of Satish Kaushik
(There are no more better movies of Satish Kaushik)
worse movies of Satish Kaushik
(There are no more worst movies of Satish Kaushik)
Three...better movies of Christopher Simpson
(There are no more better movies of Christopher Simpson)
worse movies of Christopher Simpson
(There are no more worst movies of Christopher Simpson)