Separation, A (Iran, 2011)
January 24, 2012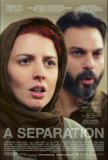 A Separation, Asghar Farhadi's universally acclaimed 2011 feature, is many things, none of them trivial. It's an indictment of a culture in which religion and tradition poison a legal system. It is an exploration of the power of a lie. It is a mystery and a courtroom drama. Above all, however, it is a tale of love and sacrifice.
Divorce has become so commonplace in the United States that movies typically treat this life change and its impact upon children as just another plot thread. We've come a long way since Kramer vs. Kramer, and perhaps not for the better. In Iran, however, where divorce is rare, the filmmaker has the latitude to express the poignancy of how the family's breakup erodes the stability of the only child without seeming excessive or melodramatic.
Things start out simply enough: wife Simin (Leila Hatami) and Nader (Peyman Moadi) stand before a judge. She is seeking a divorce and custody of their 11-year old daughter, Termeh (Sarina Farhadi, the director's daughter). Simin's intention is to emigrate with Termeh to an unspecified country, believing her daughter will have a brighter future outside of Iran. Nader, although he still loves his wife, will grant the divorce but is unwilling to give up Termeh. He cannot leave Iran because he is the caregiver to his Alzheimer's-stricken father. The judge refuses to grant the divorce, but Simin enforces the separation by moving back with her parents. Now that his wife no longer lives with him, Nader is forced to hire someone to look after his father while he is at work. That person is Razieh (Sareh Bayat), a thirtysomething housewife who must travel a long distance with her young daughter in tow to reach Nader's house. Her husband, Hodjat (Shahab Hosseini), is hotheaded and prone to violent outbursts.
One day, Nader returns home early from work to find his father left alone, tied to his bed. He has had some kind of seizure and is difficult to revive. There is no sign of Razieh or her daughter. When they return, Nader expresses his outrage, accusing the woman of neglect and theft (a sum of money is missing) before firing her. He pushes her out the front door, apparently causing her to tumble down a half-flight of stairs. Shortly thereafter, Nader receives a call from Simin informing him that Razieh is in the hospital. The separated couple goes there to learn her condition and discovers she has had a miscarriage, possibly as a result of Nader's actions. An angry Hodjat attacks Nader, then later files a legal complaint against him accusing him of murdering his unborn child.
A Separation takes a while to build to its dramatic boil. The precise setup is necessarily lengthy since the characters and their circumstances must be established before the film can move to its second phase. One key aspect of Farhadi's story is to develop all five of the principals - Nader, Simin, Termeh, Razieh, and Hodjat - into decent-but-imperfect individuals. We admire and sympathize with them, Termeh most of all. There are no villains and no easy answers. Each of the adults tells a lie or conceals a truth, and Termeh ends up trapped in the middle, the film's most evident victim. Her parents repeatedly state that they want what's best for her but, in trying to protect her, they merely deepen the hurt. The most affecting moments of A Separation involve the girl and the way she expresses love for her father. In one instance, she is forced to lie for him. In another, he coerces her into giving up a dream in order to express her belief in him.
A Separation also illustrates the inequities of the Iranian legal system, which is rigid in its codes, unsympathetic in its execution, and circumscribed by religious doctrine. The concept of "swearing on the Quran" is taken very seriously. Few in this movie will consider telling a lie while touching the Muslim holy book. To do so, they fear, will be to invite disaster to be visited upon their children. Farhadi does not openly criticize this, but he illustrates the power of religion in the everyday life of Iranian citizens - something as foreign as the language to most Americans.
A Separation includes elements of a low-key mystery. The central question is whether Nader's actions caused Razieh's miscarriage. He admits to having pushed her but cannot understand how that action contributed to a fall down the stairs and a loss of the baby. He conducts a primitive investigation and becomes convinced of his innocence. Yet he lies to the judge and claims he did not know about the woman's pregnancy when he pushed her because to admit that would be to invite a prison term. Hearing her father's obvious lie causes Termeh a crisis of conscience. The truth about Razieh's fall is eventually revealed, but the movie ends on a deliberately ambiguous note that will displease those demanding of full closure.
Ultimately, the mystery aspect of A Separation is of secondary import - a little extra spice on an already well-seasoned dish. The movie is about more weighty issues with universal implications. The most thought provoking elements relate to the sticky strands that develop around a lie like a poisonous web, but the emotional heft comes from examining the shifting relationship between Termeh and her parents. It would not be unreasonable to consider A Separation her coming-of-age story. Although the movie is not presented from her perspective, there's little doubt that she loses a lion's share of her innocence during the course of the two-hour running time.
A Separation is Iran's submission to the 2012 Oscars (and one of the five nominees), and has achieved that distinction after numerous film festival and international citations (including the Golden Bear at the Berlin Film Festival, the Golden Globe for Best Foreign Language Film, and a raft of film critic society awards). It is deserving of every one and represents one of the most satisfying non-English films to reach North American screens during the past twelve months.
---
Separation, A (Iran, 2011)
Run Time: 2:03
U.S. Release Date: 2012-01-27
MPAA Rating:
"PG-13" (Mature Themes)
Genre:
DRAMA
Subtitles: In Persian with English subtitles
Theatrical Aspect Ratio: 1.85:1
---
Three...better movies of this genre
worse movies of this genre
Three...better movies of Peyman Moadi
(There are no more better movies of Peyman Moadi)
worse movies of Peyman Moadi
(There are no more worst movies of Peyman Moadi)
Three...better movies of Leila Hatami
(There are no more better movies of Leila Hatami)
worse movies of Leila Hatami
(There are no more worst movies of Leila Hatami)
Three...better movies of Sareh Bayat
(There are no more better movies of Sareh Bayat)
worse movies of Sareh Bayat
(There are no more worst movies of Sareh Bayat)