Willy Wonka and the Chocolate Factory (United States, 1971)
June 28, 2020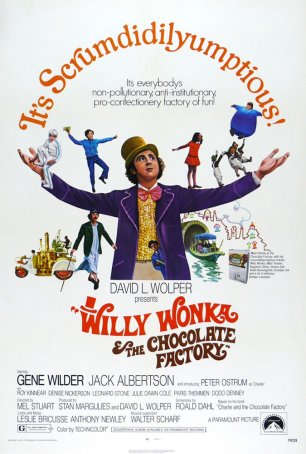 Released during the summer of 1971, Willy Wonka and the Chocolate Factory was envisioned as a transformation of Roald Dahl's twisted fable of gluttony and greed into a family-friendly musical. Inspired by The Wizard of Oz, Willy Wonka sought to attract a similar crowd with its mixture of fantastical sets, song & dance numbers, and general weirdness. Unfortunately, due in part to cheap production design and shoddy craftsmanship, Willy Wonka fails to animate the locations described in Dahl's book, with sets looking more like rejects from TV shows like Captain Kangaroo or Mr. Rogers' Neighborhood.
Dahl participated in the development of Willy Wonka, even going so far as to pen the first draft of the screenplay. The relationship between him and the filmmakers – director Mel Stuart and producers Stan Margulies and David Wolper – quickly soured. Dahl's choices for the title character – Spike Milligan or members of the Monty Python comedy troupe – were rejected in favor of Gene Wilder. Parts of Dahl's screenplay were rewritten by David Seltzer and the author was displeased with those "contributions," which made Wonka less sinister and changed the ending. Furthermore, Dahl didn't like most of the songs written by the team of Leslie Bricusse & Anthony Newly, considering them to be inane. Over the years, Dahl's hatred for Willy Wonka and the Chocolate Factory became legendary. When Tim Burton embarked upon Charlie and the Chocolate Factory, one of his stated goals was to return to Dahl's "vision." The writer, who had died in 1990, wasn't around to pronounce judgment on the 2005 production but his children gave their seal of approval saying their father would have liked the result.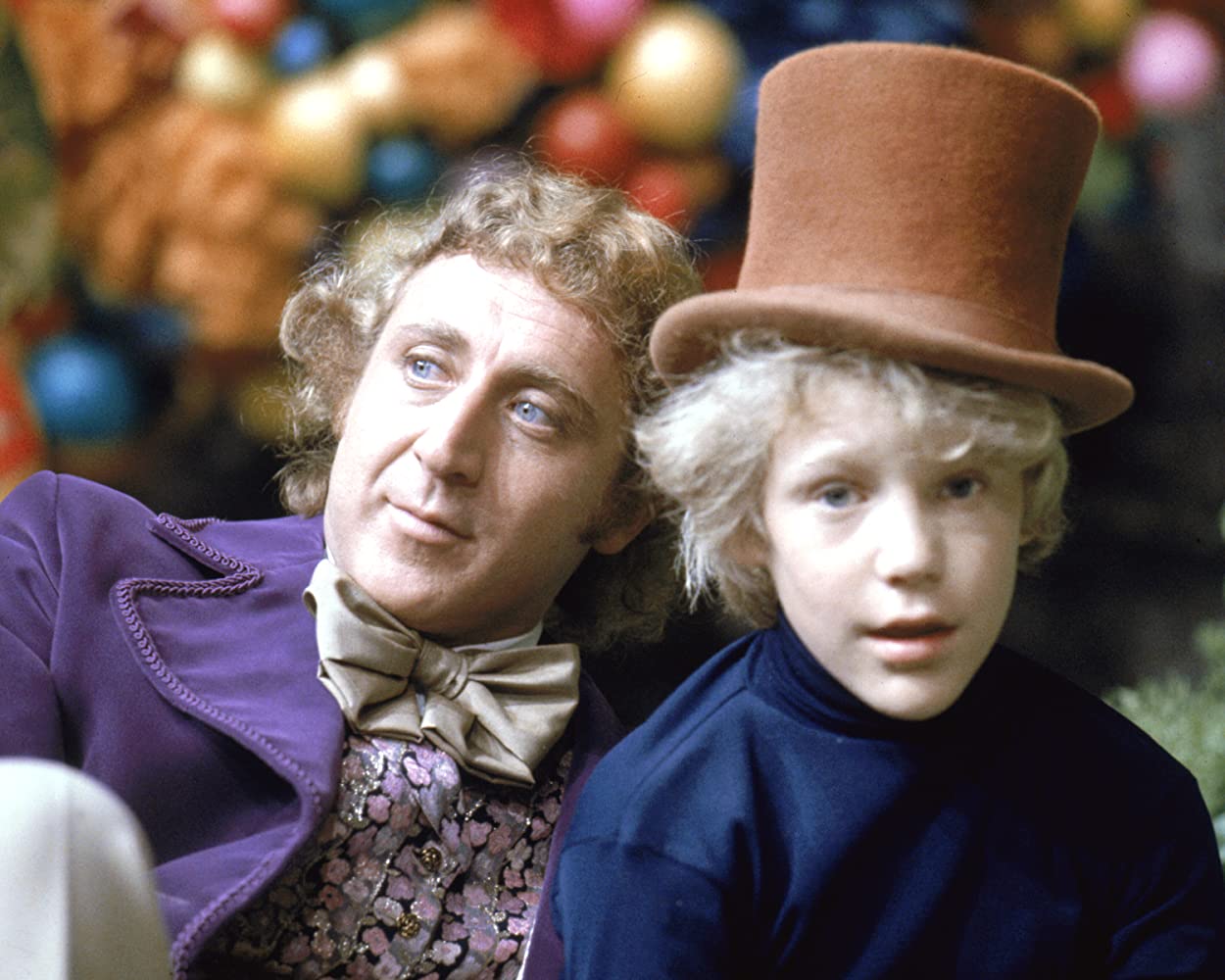 Willy Wonka and the Chocolate Factory is presented from the perspective of young Charlie Bucket (Peter Ostrum), a working class boy who becomes the fifth and final winner of a sweepstakes whose prize is a tour of the super-secret candy factory run by the mysterious and reclusive Willy Wonka (Wilder). Charlie's co-winners, all of whom (like Charlie) found "golden tickets" inside their candy bar wrappers, include the gluttonous Augustus Gloop (Michael Bollner), the rich and spoiled Veruca Salt (Julie Dawn Cole), the competitive Violet Beauregarde (Denise Nickerson), and the TV-obsessed Mike Teevee (Paris Themmen). On the day of the tour, which is to be personally conducted by Wonka, the five kids arrive at the gates of the chocolate factory with their chaperones. Augustus and Mike have brought their mothers. Veruca and Violet are accompanied by their fathers. And Charlie is with Grandpa Joe (Jack Albertson).
The tour proves to be dangerous since the participants frequently disobey rules. Augustus slips into a chocolate river and nearly drowns. Violet blows up like a giant blueberry. Veruca falls afoul of an "egg-dicator" and tumbles down a garbage chute. Mike uses teleportation technology to "beam" across the room, where he is reconstituted as a miniature version of himself. Charlie is the only child to complete the tour and, although he too violates a rule, an act of selflessness earns Wonka's confidence and the eccentric candy-maker bequeaths his entire empire to the impoverished boy.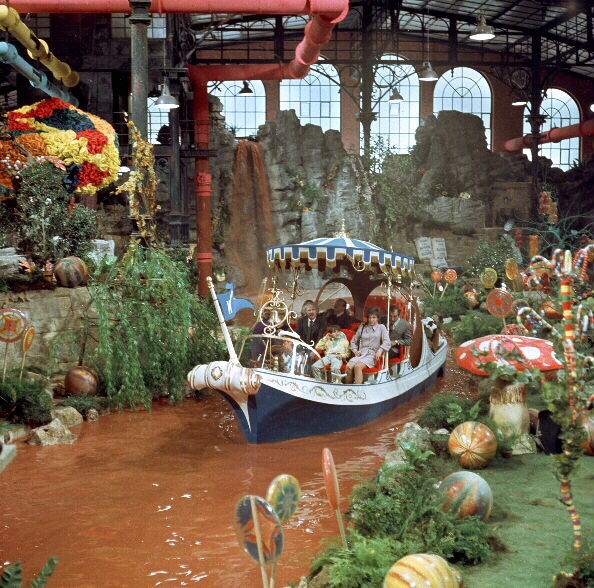 Upon its release, Willy Wonka and the Chocolate Factory was poorly received. Critical reaction was mixed and audiences were unenthused (it was ranked as #53 for the year in terms of box office). It made its television debut in 1975 and was shown regularly thereafter. Along the way, it assembled a legion of fans and developed a huge popularity among those born between (roughly) 1965 and 1980. The film's regular availability on TV in the pre-VCR era allowed it (like The Ten Commandments and The Wizard of Oz) to grow its fandom beyond what it had been during its theatrical run.
Although various aspects of Willy Wonka and the Chocolate Factory have an amateurish look (Gene Siskel remarked in his review that the chocolate river "looks too much like the Chicago River to be appealing"), the screenplay is peppered with amusing one-liners, sardonic observations, and effective satire. This appears to be what remains of Dahl's contribution and it's not to be discounted lightly. To the extent that Willy Wonka and the Chocolate Factory is enjoyable, much of that entertainment comes from the incisive wit.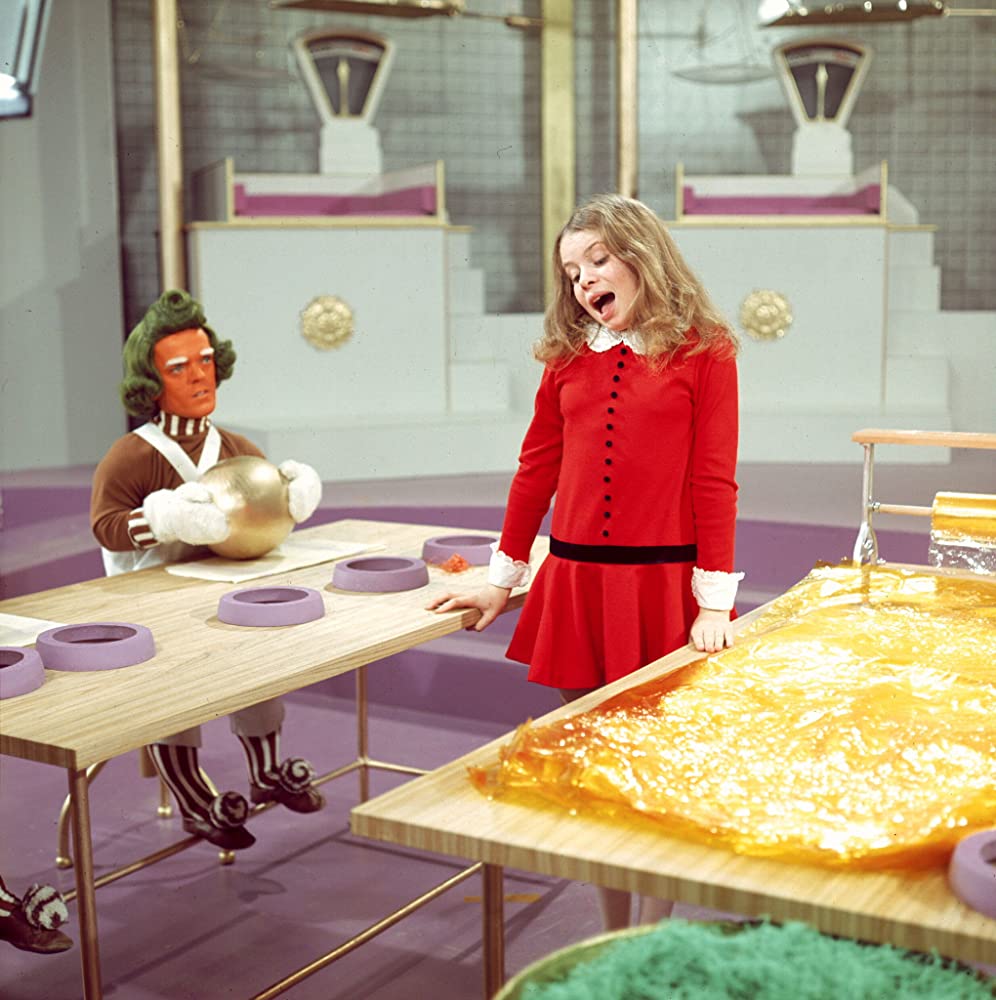 Although Dahl disparaged the casting of Wilder, his performance is one of the film's highlights. He understands the ambiguity of the character and, although he's not as creepy as Johnny Depp, there's still something a little "off" about him. Wonka's methods of teaching life lessons to the children are unorthodox and Wilder often comes across like an eccentric professor. He was the only star in the film. The other adult roles were filled by character actors and the children were either non-professionals or child actors who didn't continue in front of the camera past the 1970s. (Julie Dawn Cole being the exception.) For Peter Ostrum, who played Charlie, this represented his lone screen credit. It's understandable. He's awful – Jake Lloyd-as-Anakin Skywalker-awful. One can't help but wonder how much better Willy Wonka would have been had an actor of Freddie Highmore's caliber been hired for this iteration.
Nostalgia represents a powerful influence when making a modern assessment of Willy Wonka and the Chocolate Factory. By normal standards, it would not have weathered the ravages of time. Many aspects of the production are dated – even the most famous song to emerge from the production ("Candyman," which Sammy Davis Jr. popularized) is old-fashioned. But the movie has become embedded into the childhood experiences of many Generation X'ers and, as a result, it can be difficult to take a more analytical approach. Willy Wonka and the Chocolate Factory, like many childhood favorites, is better left in the past and allowed to reside in memories. As an adaptation of Dahl's story, it's inferior to the Burton remake.
---
Willy Wonka and the Chocolate Factory (United States, 1971)
Director:
Mel Stuart
Cast:
Gene Wilder
,
Ursula Reit
,
Paris Themmen
,
Dodo Denney
,
Denise Nickerson
,
Leonard Stone
,
Julie Dawn Cole
,
Roy Kinnear
,
Peter Ostrum
,
Jack Albertson
,
Michael Bollner
Home Release Date: 2020-06-28
Screenplay:
Roald Dahl, based on his novel
Cinematography:
Arthur Ibbetson
Music:
Leslie Bricusse & Anthony Newley
U.S. Distributor: Warner Brothers
Run Time: 1:40
U.S. Release Date: 1971-06-30
MPAA Rating:
"G"
Genre:
Fantasy/Musical/Comedy
Subtitles: none
Theatrical Aspect Ratio: 1.85:1
---

Three...better movies of this genre
(There are no more better movies of this genre)
worse movies of this genre
(There are no more better movies of this genre)
Three...better movies of Gene Wilder
(There are no more better movies of Gene Wilder)
worse movies of Gene Wilder
(There are no more worst movies of Gene Wilder)
Three...better movies of Ursula Reit
(There are no more better movies of Ursula Reit)
worse movies of Ursula Reit
(There are no more worst movies of Ursula Reit)
Three...better movies of Paris Themmen
(There are no more better movies of Paris Themmen)
worse movies of Paris Themmen
(There are no more worst movies of Paris Themmen)