Movies starring Athena Karkanis Saw IV
Horror films are like candy corn: familiar, bland, and sickening if consumed in large quantities. They're both ubiquitous at this time of year and there must be a large group of individuals who appreciate their dubious charms because they never go ...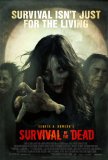 Survival of the Dead
For a 20 year period, from the release of Day of the Dead in 1985 to the opening of Land of the Dead in 2005, George A. Romero was off doing other things. Since then, however, this one-time horror innovator has become a one-trick pony. Admittedly...