Stepfather, The (United States, 1987)
March 25, 2018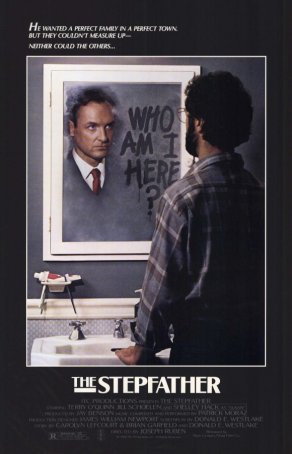 Spoilers (including revelations about the ending)!
By 1987, the (first) slasher-film craze had reached its apex. Proven box office winners because of their gory appeal, slashers could be made for next-to-nothing and almost always turned a profit during their first few days of release. Although the "Big Three" dominated the national consciousness (with Halloween gearing up for its fourth chapter, Friday the 13th having released a fifth sequel, and A Nightmare on Elm Street prepping installment #3), there were plenty of smaller entries, most of which are now forgotten. Into this climate arrived a relatively unheralded combination horror-thriller called The Stepfather. Although not technically a "slasher", it was made and marketed like one. Although its final box office tally, $2.5M, seems anemic by today's standards, it looks a little different when one considers that its entire production+advertising budget was less than $1M and it did even better business on video than in theaters.
I suppose it's fair to call The Stepfather a "cult classic", although the title is better known than many films placed in that category. The devotion of its fans was such that two sequels were made (the first of which was bad, the second of which was unwatchable) and, some 22 years after the fact, an anemic remake showed up in theaters (only to be quickly dismissed by viewers and critics alike). Most of those who pledge their allegiance to The Stepfather found it (as I did) when it reached home video in late 1987.