Grand Hotel (United States, 1932)
December 21, 2009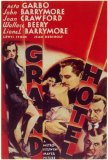 Grand Hotel, which captured the Best Picture Oscar in 1932 (the third of three years when the Academy Awards were held at the end of the year - they reverted to the first quarter in 1934, where they have remained), became a template of sorts for many future productions seeking Oscar gold. By 1932, winning a citation from the Academy had begun to attract prestige. Grand Hotel, while not a great movie in the conventional sense, was one of the first films that could truly claim a "star-studded" cast. The marching orders were simple: fill as many roles with recognizable A-listers as possible and let audience interest do the rest. It worked. Grand Hotel was popular with the critics, the public, and the Academy. Oddly, for a movie built upon the star power of its cast, it earned no acting nominations. In fact, it won the only Oscar for which it was nominated: Best Picture.
The story unfolds within the confines of the Grand Hotel, the finest establishment in all of Berlin between the world wars. There are five principal characters: the impeccably mannered Baron (John Barrymore), the temperamental dancer Grusinskaya (Greta Garbo), the stenographer Flaemmchen (Joan Crawford), the corporate tyrant Preysing (Wallace Beery), and the sickly Otto Kringelein (Lionel Barrymore). The meat of the narrative devolves from the interaction between the various characters. The Baron, despite exuding an air of sophistication, is actually broke. To pay his debts, he has entered into a compact with some gangsters to steal jewelry, but he can't go through with it. He falls in love with the sad, lonely Grusinskaya, whose unhappiness is destroying her career. The Baron's pledge of love and support allows her to re-discover herself and re-claim her talent. Flaemmchen, a stenographer who is working for Preysing, is attracted to the Baron. She, like him, needs money and, to get it, she prostitutes herself to Preysing, whose financial fortunes hinge on the success of a merger. Finally, Kringelein is an inoffensive individual who, convinced that he is afflicted with a terminal illness, has withdrawn his entire savings from the bank and is spending lavishly to give himself a grand sendoff. The Baron shows kindness to Kringelein and introduces him to Flaemmchen - an act that will prove propitious for them both.
Although Grand Hotel's ultimate source material is a novel by Vicki Baum, who wrote it in part based on her experiences working in a German hotel in the late '20s, it came to the screen by way of the stage. The film's theatrical roots are in evidence. It's a talky piece with a limited number of sets. Admittedly, many of those are lavish - such as the hotel's swanky lobby - but the action is confined to a few areas. Grand Hotel is about characters and their interaction, about recognizing that almost everyone has a secret and learning what those secrets are. By today's standards, it's a somewhat dry experience, but watching so many legendary actors in close proximity is a compensation for the stilted development of the tale.
Grand Hotel showcases a number of Hollywood's A-listers from the early '30s. In terms of "star power," it can be related to Steven Soderbergh's Oceans 11 remake. John Barrymore was in the middle of a long and productive career - one that spanned the period between the mid-teens and the early 1940s - when he headlined Grand Hotel. Shortly after making this movie, however, Barrymore's career began a slow decline that was in part a result of a lifelong struggle with drinking. He never won as Oscar, nor was he ever nominated for one, but he is widely regarded as the best member of the Barrymore acting dynasty. Of the roughly 30 talkies he appeared in, this is among his best remembered.
Barrymore's brother, Lionel, had a longer and more diverse career than his younger brother. He won the 1931 Oscar for A Free Soul, but his legacy comes from two parts he played later in life. In 1946's It's a Wonderful Life, he appeared as the mean-spirited villain, Mr. Potter. Two years later, he was James Temple in the Humphrey Bogart classic, Key Largo. He and his brother co-starred seven times. His performance in Grand Hotel is interesting, especially contrasting it to Mr. Potter. He's as convincing here being deferential and obsequious as he is being nasty and petty in It's a Wonderful Life.
Greta Garbo, among Hollywood's most alluring, reclusive, and mysterious sirens from the silent and early talk era, uttered in Grand Hotel what many consider to be her mantra: "I want to be alone." Garbo made a handful of films in her native Sweden before coming to Hollywood in the mid-20s. She became a huge star and, when she made her first sound film (Mata Hari) in 1931, the marketing slogan was: "Garbo Talks!" She was nominated four times for Oscars but never won, and she dropped out of acting and went into virtual seclusion in 1941 (the same year John Barrymore made his last film). Her role in Grand Hotel was initially small but, because of her stature and her chemistry with John Barrymore, it was expanded to provide her with additional screen time.
At the time she made Grand Hotel, Joan Crawford was only 27 and far removed from becoming the caricature of a monster that Mommy Dearest and Bette Davis would paint her to be. By 1932, Crawford's career had blossomed into stardom, although her juiciest roles were yet to come. Her Oscar nominations arrived in 1946 (for Mildred Pierce; she won), 1948 (Possessed), and 1953 (Sudden Fear). In Grand Hotel, Crawford outacted Garbo and her role is more easily remembered. The nature of her character - a working girl who was willing to sleep with a man for a job and a room in a high-priced hotel (remember - this was made during the Depression) - resulted in some of her scenes being censored in conservative locales.
Of the five principals, the only one whose name has not become a fixture in popular culture is Wallace Beery, and he is inarguably the most demonstrative figure in the film. Beery was a hugely popular figure in his day, but his career was approaching its twilight by the time he made Grand Hotel. Beery was nominated twice for Oscars and won once (in 1932, for The Champ, the movie he filmed immediately before Grand Hotel). Beery is not as well remembered as the Barrymores, Garbo, or Crawford because the bulk of his work came in silent films. He was instantly recognizable during the '10s and '20s, making close to 200 appearances in shorts and features during that period. His staple role was as Sweedie in a long-running comedy series and he was once married to Gloria Swanson. Grand Hotel highlights him at his most boisterous.
For director Edmund Goulding, pacifying egos was as challenging a part of his job as getting the story on film. Crawford and Garbo, both notoriously catty, required special handling. It's rumored that the reason additional scenes were filmed with Garbo is because she was unhappy about having less screen time than Crawford. Goulding's style is straightforward; there's nothing fancy about how he assembles Grand Hotel, although his decision to start the film with each character making a phone call is a clever, economical way to provide background information about the setting and the individuals. Goulding began his career on the London stage then moved to Hollywood in the early 1920s. His first few directorial effort s were silent films, but Goulding was best known for his talkies, and Grand Hotel epitomizes the kind of movies for which his services were desired. He never won an Oscar (nor was he nominated) and continued working almost to his death in 1959.
Nearly 80 years after its release, Grand Hotel remains notable primarily for its cast. The film was popular enough to be remade in 1945 as Week-End at the Waldorf, but the later version was neither as star-studded nor as well-received. Grand Hotel represents the superior telling of the story and the opulence of the title setting makes one yearn to spend a night in a place like this, although not necessarily with people like these. In its day, it provided the ultimate two-hour vacation from the stark day-to-day realities of living during the Great Depression. For 21st century viewers, the film is little more than a curiosity, although it's entertaining enough. It hasn't aged as well as some Oscar-winners, but neither is it as dated as, for example, Cimarron.
---
Grand Hotel (United States, 1932)
---
Three...better movies of this genre
worse movies of this genre
Three...better movies of John Barrymore
(There are no more better movies of John Barrymore)
worse movies of John Barrymore
(There are no more worst movies of John Barrymore)
Three...better movies of Greta Garbo
(There are no more better movies of Greta Garbo)
worse movies of Greta Garbo
(There are no more worst movies of Greta Garbo)
Three...better movies of Joan Crawford
(There are no more better movies of Joan Crawford)
worse movies of Joan Crawford
(There are no more worst movies of Joan Crawford)