Living (United Kingdom/Japan, 2022)
December 20, 2022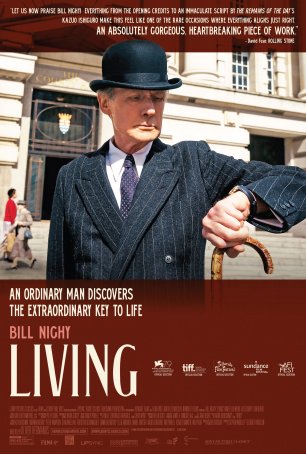 First things first – Living is not quite as good as Akira Kurosawa's Ikiru (of which it is a remake), but it's a damn good re-interpretation. Although many of the plot details are identical and the acting is powerful in both instances, the black-and-white of the Japanese original, combined with Kurosawa's shot choices, gives that movie a transcendent quality. Living, on the other hand, is in color and uses a more traditional photographic approach. Both movies are set in 1952 yet Ikiru seems timeless while Living is more of a period piece.
Having said that, nearly every superlative that can be heaped upon Ikiru applies here, in large part because director Oliver Hermanus and screenwriter Kazuo Ishiguro (the Nobel prize-winning author of a number of critically praised novels, including The Remains of the Day) have remained true to the themes and essence of Kurosawa's original while doing enough to justify this new film's existence. Living isn't merely an English-language copy of the 1952 movie; it has a life of its own and shows, among other things, the universality of the concepts and ideas that Kurosawa wrestled with some 70 years ago. (Ikiru also owed a debt to Tolstoy's 1886 novella "The Death of Ivan Ilyich," although it borrowed elements rather than being a straightforward adaptation.)
Bill Nighy, in what represents one of the most affecting performances of a long and respected career, plays Mr. Williams, a middle manager at a government office in post-war London, whose job consists of moving around paper and passing the baton. It's this kind of thing that Terry Gilliam had great fun with in Brazil, mercilessly satirizing the inefficiency of government bureaucracy. That it transfers so well from Japan (in Ikiru) to the U.K. is indicative of how the cancer of inefficiency crosses international borders. Williams' day is one of ordered routine. He takes the same train every morning, presides over the workroom for a full day, then goes home at night to eat dinner with his son and daughter-in-law (with whom he shares a home). Nothing ever changes…until everything does when Williams is given a diagnosis of terminal cancer. He has six, maybe nine, months to live.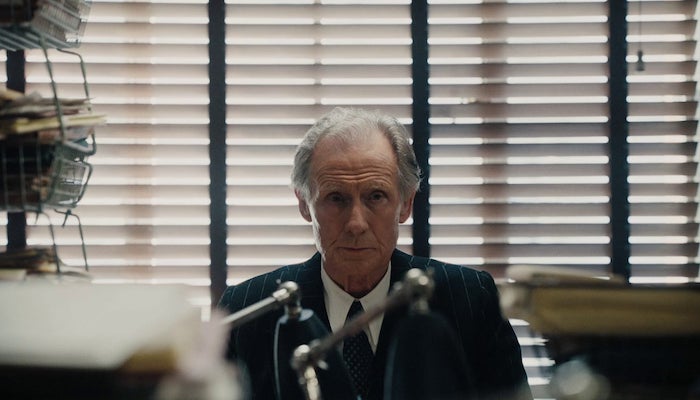 The film's second act shows how Williams copes with the knowledge of his impending demise. At first, he tries to go the epicurean way: "Eat, drink, and be merry, for tomorrow we die." To that end, he engages with a willing "guide," the playwright Talbot (Jamie Wilkes), who takes him to places where he can imbibe on alcohol and watch burlesque shows. Ultimately, Williams finds this unfulfilling. His moment of clarity comes when he spends some time with Peggy (Aimee Lou Wood), a young woman who had previously worked under him at the office but is moving on to something more fulfilling. Through his interactions with her (she asks him to write a recommendation), he discovers that he could use his final months to do something. After a lengthy absence, he returns to the office and becomes a force for change.
Mirroring the ending of Ikiru, Living offers a bittersweet conclusion, presented after Williams' death. Although he achieves a small thing – the building of a playground sought by a diligent group of women – the pledges from his co-workers to continue his legacy prove to be empty words. It doesn't take long before the intransigence of the bureaucracy has once again taken control.
The concepts of carpe diem and what constitutes a life well-lived are at the forefront of Living. The movie questions not only how people live their lives but whether, when the end comes, they are satisfied with the choices they have made. Williams doesn't achieve anything extraordinary but he is viewed heroically by a small group of people. He doesn't bring down an uncaring system but exploits it to find a way to do what had previously been unthinkable.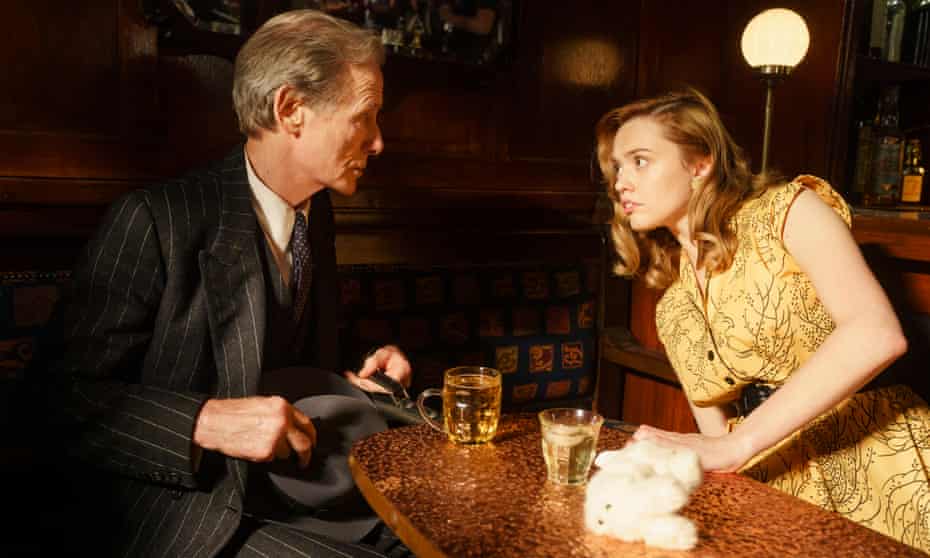 I won't attempt to compare Nighy's performance with that of Takeshi Shimura, who originated the character in Kurosawa's film. Both actors are superlative and rely more on facial expressions and body language than dialogue. Nighy has made a career out of playing a curmudgeon and that reputation serves him well in Living. We don't see the character start to unwind until the flashbacks toward the end but the relaxation is cathartic. Aimee Lou Wood, perhaps best known as one of the ensemble in Sex Education, adds a spark of lightness and optimism to the proceedings, much as Miki Odagiri did in Ikiru.
It's unlikely that Living will supplant Ikiru as the remembered telling of this classic story but the movie feels like an antidote to the uncertain times in which we find ourselves. It's emotionally resonant without being saccharine or manipulative. Although lacking some of the artistry of Ikiru, the change to English may make it more accessible to subtitle-phobic audiences. Living offers restrained optimism leavened with enough cynicism to win over those who might be less enamored of something more artificial. It's one of the year's best films.
---
Living (United Kingdom/Japan, 2022)
Run Time: 1:42
U.S. Release Date: 2022-12-23
MPAA Rating:
"PG-13" (Adult Themes)
Genre:
Drama
Subtitles: none
Theatrical Aspect Ratio: 1.48:1
---
Three...better movies of this genre
worse movies of this genre
Three...better movies of Bill Nighy
worse movies of Bill Nighy
Three...better movies of Aimee Lou Wood
(There are no more better movies of Aimee Lou Wood)
worse movies of Aimee Lou Wood
(There are no more worst movies of Aimee Lou Wood)
Three...better movies of Jamie Wilkes
(There are no more better movies of Jamie Wilkes)
worse movies of Jamie Wilkes
(There are no more worst movies of Jamie Wilkes)