Nayagan (India, 1987)
August 24, 2019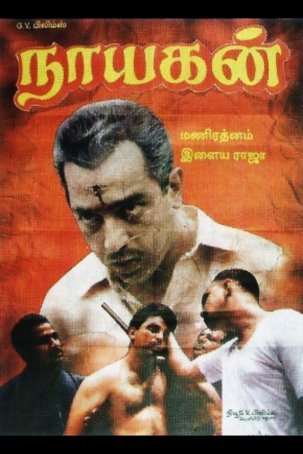 It's a fair assessment that my overall unfamiliarity with Indian cinema may have amplified some of my criticisms of Mani Ratnam's Nayagan (or, as it is also known, Nayakan). Two aspects that I found to be distracting – the oddly-placed musical interludes and tendency toward overacting – are part and parcel of the Bollywood tradition. Indian film-goers would have found it odd for these elements not to be present. Nevertheless, once one overcomes any cinematic cultural differences, what Nayagan has to offer is universally compelling.
"Whatever helps others cannot be wrong." This quote represents the defining precept in the life of Sakthivel (Kamal Haasan) – a Bombay street urchin-turned-don who sees himself as a force for good nearly until the end when, by his own admission, he no longer knows. Looking back at a tumultuous life, he sees the pathway that has brought him to this place, beginning with the murder of his father (a pro-union leader) and his adoption by a smuggler. As a young man, he avenges the death of his adopted father by killing a corrupt police inspector. He becomes involved in smuggling and the Bombay underworld and begins a rise in power that won't end until he achieves the title of Velu Naicker and sits at the top of the city's crime syndicate. Although Sakthivel often must resort to violent, bloody actions to retain his position and achieve his aims, his Robin Hood-influenced approach (rob from the rich, give to the poor) makes him popular among the masses – so popular that, when an assistant commissioner (Nasser) brings charges against him, no one is willing to testify.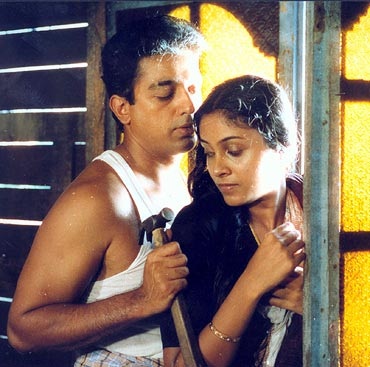 Sakthivel's personal life is marked by tragedy. As a young man, he is offered a night with a schoolgirl, Neela (Saranya), who is working as a prostitute. Sakthivel becomes enchanted and marries her. They have two children – Surya (played by Nizhalgal Ravi as an adult) and Charumati (Karthika as an adult). Neela is killed in a botched hit and, years later, Surya dies while carrying out his father's "business." Blaming her father for both deaths, Charumati breaks contact with him, leaving Sakthivel alone and lonely in his declining years.
Nayagan begins on unsure footing. The opening act is riddled with uneven performances and wild tonal swings. The musical sequences lack the energy and lively choreography evident in other Indian productions. As the story deepens, however, and the characters are fleshed out, the movie begins to exert a power than grows as the running time lengthens. By the time the end credits arrive, the uncertainty of the early scenes is a distant memory. The movie has achieved an epic scope and Ratnam has shown himself to be a more-than-competent director.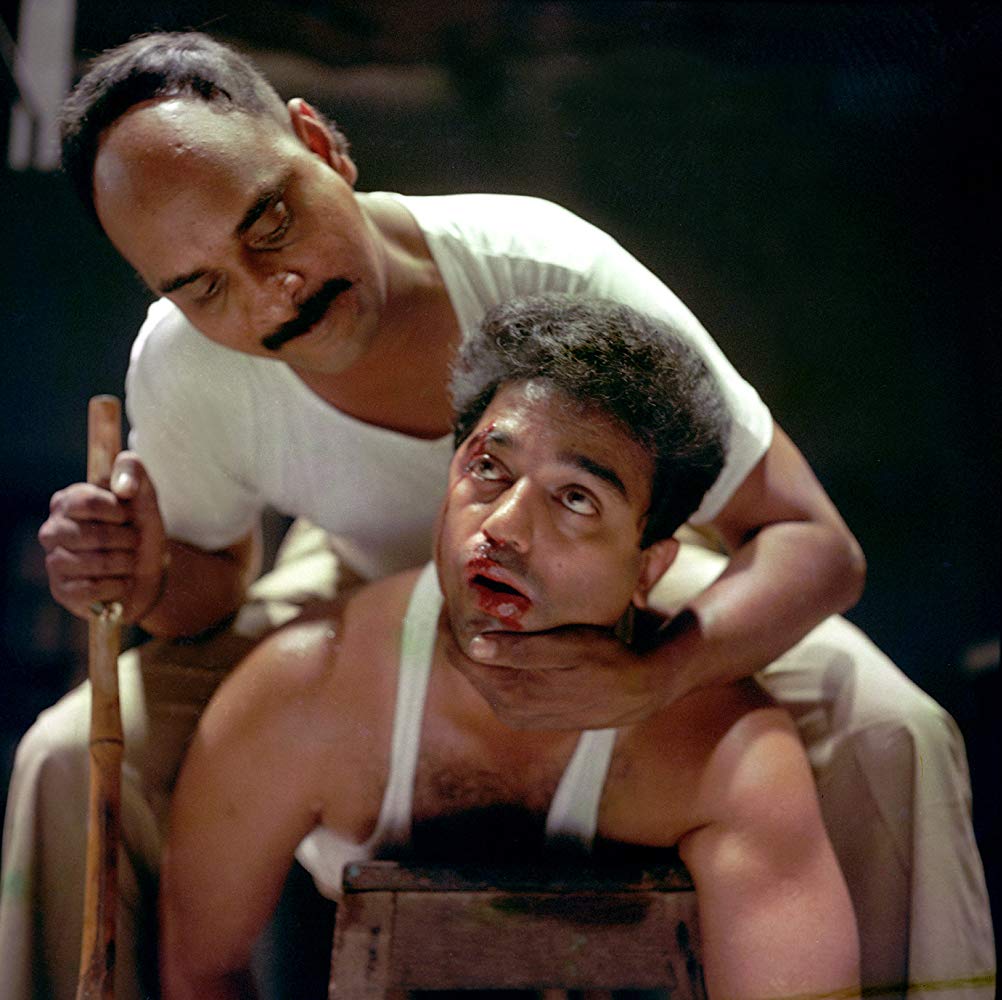 Thematically and narratively, Nayagan owes a debt both to The Godfather and Once Upon a Time in America. The core themes of disillusionment, guilt, and redemption are a common thread. There are even times when lead actor Kamal Haasan appears to be channeling Marlon Brando (vocally and in his gait). The film's central relationship is the one between Sakthivel and his daughter, Charumati. She becomes his conscience, showing him that perhaps he has used the precept of "Whatever helps others cannot be wrong" as an excuse to do some terrible things.
One of Nayagan's consistent problems relates to the score, which is credited to Ilayaraja. (According to Wikipedia, this was his 400th film soundtrack.) Reminiscent of blaxploitation music from the 1970s, it's cheesy from start to finish, with certain passages sounding like they were written by K.C. and the Sunshine Band. There are times when music can make a movie better; this isn't one of them. The score damages some scenes; there are times when it's so bad that it feels like a self-parody and threatens to imbue serious moments with an unintentionally comedic quality.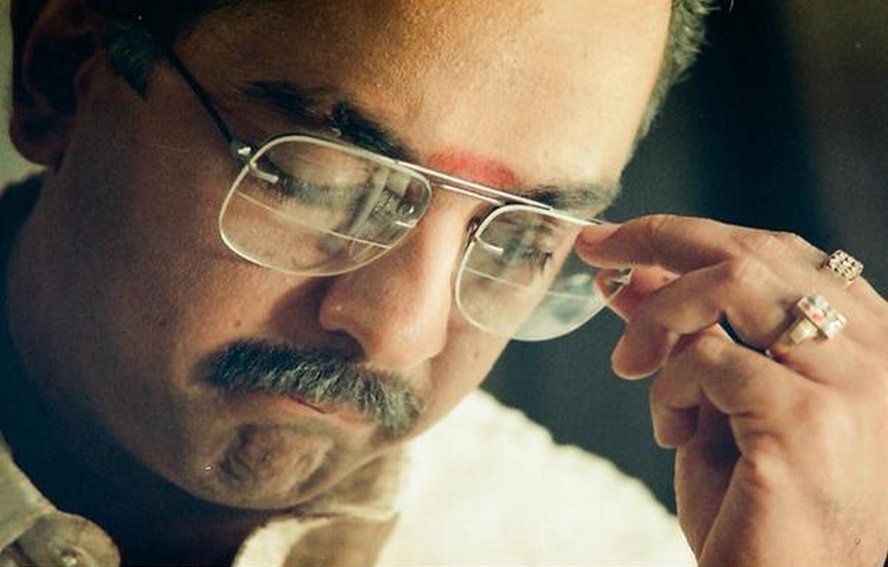 The movie was released in India during late 1987 to great critical acclaim. Like most Bollywood productions, however, it was largely ignored outside of its home country, garnering little more than cursory attention at international film festivals. (It was India's submission for the 1988 Foreign Language Film Oscar but wasn't short-listed.) The movie was never widely distributed outside of India, although an English-language (subtitled) version was made available for showing in the U.K. Today, it is available for streaming via various sites (including, most notably, Amazon Prime). Unfortunately, the film elements used for this copy have not been well-preserved – the colors are washed out and the movie lacks definition.
Nayagan requires patience and a willingness to adapt to a film style that will be as foreign as the language to Western viewers. Although the beginning isn't promising, Nayagan develops into a workmanlike tale established firmly in the gangster mythos. The characters gain depth, the melodrama tugs at the heartstrings, and the overall impact is that of a well-told genre tale. I wouldn't necessarily describe this as a "lost gem," but it's worth watching for anyone with an affinity for Indian films in general and gangster tales in particular.
---
Nayagan (India, 1987)
Run Time: 2:25
U.S. Release Date: 1987-10-21
MPAA Rating:
"NR" (Violence, Sexual Content)
Genre:
Drama
Subtitles: In Hindi and Telugu with subtitles
Theatrical Aspect Ratio: 1.85:1
---

Three...better movies of this genre
worse movies of this genre
Three...better movies of Kamal Haasan
(There are no more better movies of Kamal Haasan)
worse movies of Kamal Haasan
(There are no more worst movies of Kamal Haasan)
Three...better movies of Saranya
(There are no more better movies of Saranya)
worse movies of Saranya
(There are no more worst movies of Saranya)
Three...better movies of Delhi Ganesh
(There are no more better movies of Delhi Ganesh)
worse movies of Delhi Ganesh
(There are no more worst movies of Delhi Ganesh)