Race for Your Life, Charlie Brown (United States, 1977)
June 27, 2020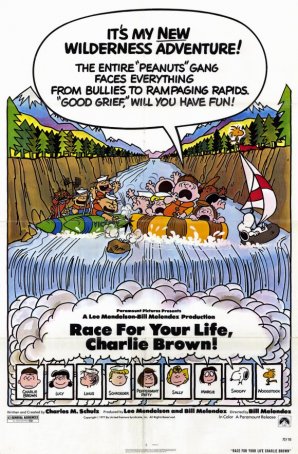 My lack of enthusiasm about the 1977 theatrical feature, Race for Your Life, Charlie Brown, makes me feel a little like a Scrooge or a Grinch. The sad truth is, however, that as important as the Peanuts Gang was to those growing up in the '60s, '70s, and '80s, their time, like so many mid-20th century relics, has passed. To be fair, a decent upgrade was made a few years ago but 2015's The Peanuts Movie was only moderately successful at the box office. Charlie Brown might have name recognition but it's an open question whether he still has cultural relevance.
Charlie Brown began his animated life by leaping from the funny pages to television in 1965. A Charlie Brown Christmas remains the best and best-loved of all the TV shows and movies to feature the Peanuts characters. Its message about the real meaning of the season has resonated across generations. In the years that followed, the TV special catalog grew, adding editions for Halloween, Thanksgiving, Easter, Valentine's Day, and even Arbor Day! The first theatrical endeavor, A Boy Named Charlie Brown, reached theaters in 1969. It was followed by Snoopy Come Home in 1972. Race for Your Life was the third of four feature films to be made under the auspices of Peanuts creator Charles Schulz. Following the 1980 release of Bon Voyage, Charlie Brown, the gang made a semi-permanent home on television, where they have remained with the exception of the aforementioned 2015 attempt at a re-discovery.
One problem with Race for Your Life, Charlie Brown is that there's too little material for the 75-minute running length. There's a reason why the Charlie Brown TV specials were fitted into half-hour slots (with actual running times around 25 minutes). Some cartoons can be expanded to fill out the 70-to-90 minutes needed for a theatrical release but Peanuts isn't one of them. And, while the simplistic line-drawn animation was fine for audiences in the 1960s and 1970s (no one expected Disney-style artwork), today's audiences aren't likely to be impressed. Another issue with the film relates to the music. Originally, composer Vince Guaraldi had been approached to write the score for Race for Your Life. His unexpected death left a void that Ed Bogas attempted to fill. While Bogas' music is adequate, his decision not to incorporate any of Guaraldi's themes (most notably "Linus & Lucy") causes Race for Your Life to feel strangely incomplete.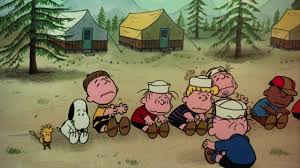 The story, not unexpectedly, is straightforward enough that even a small child will be able to follow it. (Schulz, comfortable with writing daily and Sunday comic strips, preferred short vignettes tied together under a loose narrative umbrella.) An alternative title could easily be Charlie Brown Goes Camping. The story follows the Peanuts Gang's attempts to win a rafting race while spending time at Camp Remote. Four teams are highlighted. One is comprised of the boys, including Charlie Brown, Linus, Schroeder, and Franklin. Another is four girls: Lucy, Sally, Marcie, and the ever-bossy Peppermint Patty. A third is the animal duo of Snoopy and Woodstock. And a fourth features a group of bullies. The race takes several days and, along the way, there are a variety of mishaps, including one in which Woodstock and Snoopy are separated and the whole gang bands together to find the lost bird.
Although Peanuts movies didn't cost much to make, they also weren't big performers at the box office. Race for Your Life, Charlie Brown made a little over $3M during its domestic run (inflation adjusted: $13M), which was in line with expectations. The film played almost exclusively to families with Peanuts not being sufficiently appealing to other demographics, especially considering the shift toward big screen spectacles that was underway (Star Wars premiered the same summer as Race for Your Life and was still dominating the box office at the time when this movie opened). Even by '70s standards, the film's look was unrefined but an attempt to "upgrade" the Schulz-inspired look of Bill Melendez's animation would have been deemed sacrilege.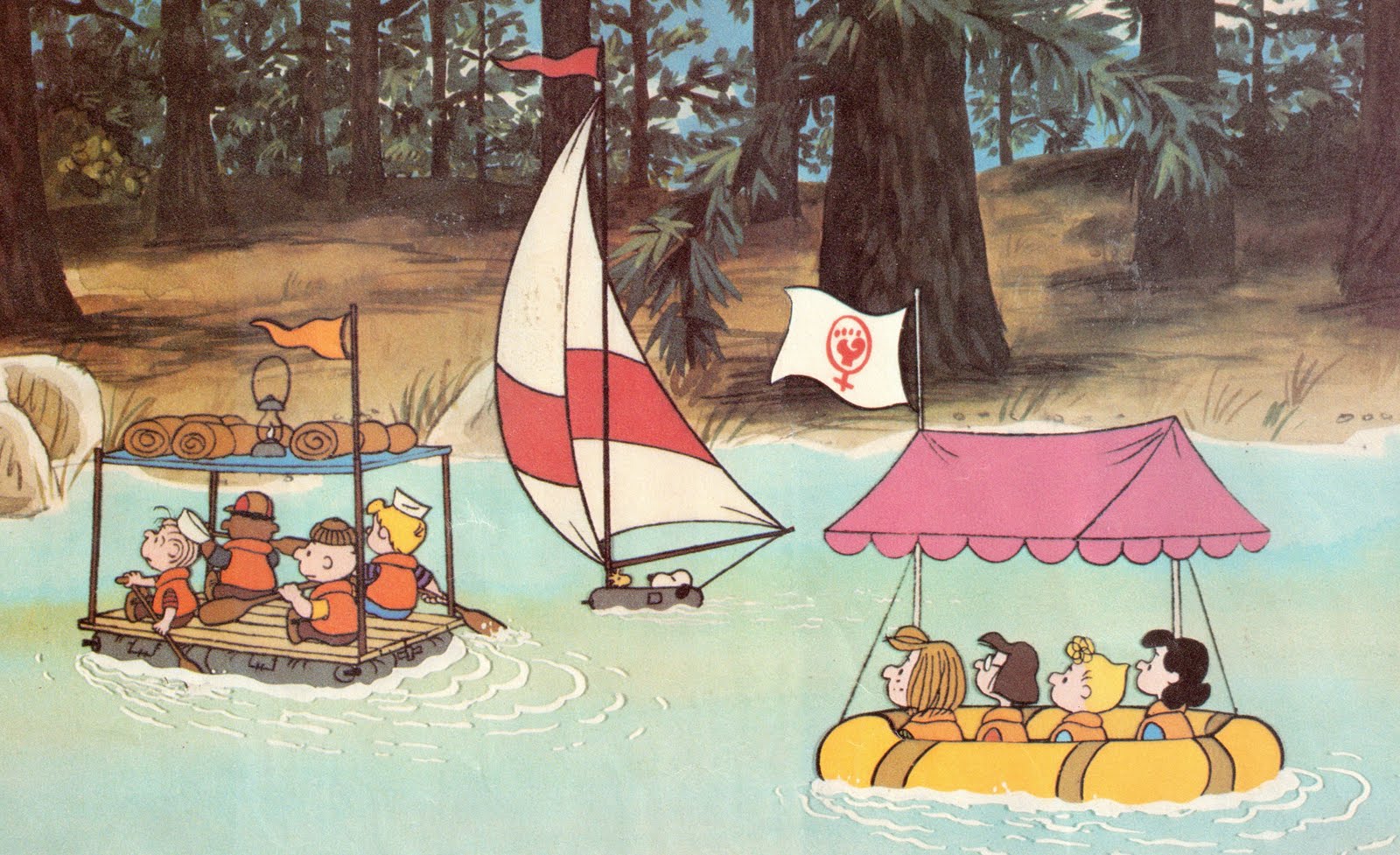 Unlike with some other animated franchises, voice identification has never been a major hallmark of the Peanuts TV specials/movies. Over the years, a number of different actors have portrayed the various roles but no one has offered an iconic interpretation. No one in Race for Your Life is noteworthy or remembered, although it's interesting to note that the voices of Peppermint Patty and Marcie are provided by men. (This is perhaps not surprising for Patty who has always been presented as having masculine characteristics.) Animator/director Bill Melendez represents the only point of continuity. His vocal stylings gave Snoopy and Woodstock their sounds from 1965 until his death in 2008 (and then via archived footage in the 2015 movie).
For me, watching Race for Your Life was a 75-minute exercise in nostalgia and, on that level, it works. People of my age will undoubtedly react fondly to the movie even though its themes are vanilla, its comedy is dated, and its visual appeal is less complex than the average Saturday morning TV cartoon. Younger viewers, however, accustomed to more razzle-dazzle, are unlikely to be more than passingly entertained by Race for Your Life, thereby making it a movie whose primary demographic won't be charmed, amused, or enraptured. As a franchise and a brand, Peanuts undoubtedly has value, but this particular chapter is hermetically sealed in the 1970s.
---
Race for Your Life, Charlie Brown (United States, 1977)
---

Three...better movies of this genre
worse movies of this genre
Three...better movies of Duncan Watson
(There are no more better movies of Duncan Watson)
worse movies of Duncan Watson
(There are no more worst movies of Duncan Watson)
Three...better movies of Stuart Brotman
(There are no more better movies of Stuart Brotman)
worse movies of Stuart Brotman
(There are no more worst movies of Stuart Brotman)
Three...better movies of Gail Davis
(There are no more better movies of Gail Davis)
worse movies of Gail Davis
(There are no more worst movies of Gail Davis)