Viridiana (Spain/Mexico, 1961)
September 06, 2020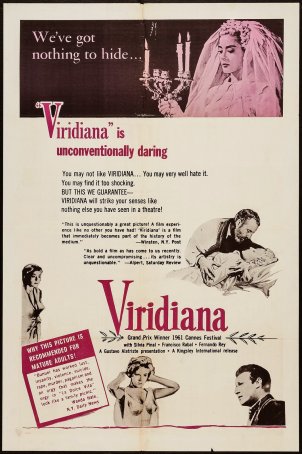 When it was released in 1961, Viridiana was seen as shocking by some, blasphemous by others, and even deemed controversial by those accustomed to European filmmakers coloring outside the lines. Today, the "edgy" and "envelope-pushing" aspects of the movie have become, if not outmoded, then at least mild compared to the risk-taking approach used by modern writers and directors. It's not hard to identify which aspects of Viridiana would have angered a conservative society but the impact isn't the same in 2020 as it was sixty years earlier. Regardless, although the production might no longer have the same degree of shock value, it works as a blend of old-fashioned melodrama and subtle satire, with a dash of director Luis Bunuel's well-known foot fetishism added for flavor.
Bunuel's deep-rooted cynicism is in full flower throughout Viridiana. At the time of the film's release, it seemed over-the-top to some critics, although it was awarded the top prize at the 1961 Cannes Film Festival. Today, one assumes audiences might be more open to the theme of "no good deed going unpunished." In general, the generation of movie-goers in 2020 is considerably less idealistic than that of the 1960s. Cinematic nihilism, not always warmly received in the middle of the previous century, is accepted with an almost blasé shrug today.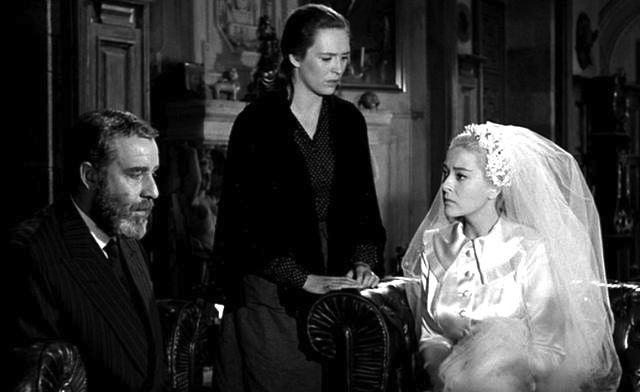 The movie opens in a convent where the novice Viridiana (Silvia Pinal) is about to take her final vows. Her uncle Don Jaime (Fernando Rey), who has acted as her benefactor in recent years, requests that she visit before taking the last step to become a nun. Pressured by her mother superior, she accedes. Although she doesn't know it at the time, she will never again set foot within the convent. Her initial reception at Don Jaime's farm is warm. He lives there with only a few servants, including his loyal housekeeper, Ramona (Margarita Lozano). When Don Jaime develops an obsession for Viridiana because of her resemblance to his dead wife, Ramona is willing to help him execute a plan.
On her last night at the farm, Viridiana agrees to Don Jaime's request that she wear his wife's wedding gown. He then proposes to her. Shocked, she refuses but, after Ramona drugs her drink, she is powerless to stop what happens next. Don Jaime takes the insensate woman to her room with the intention of raping her. At the last minute, he balks but, when she awakens, he tells her that she is no longer a virgin and can't return to the convent. Horrified, she gives him a look pure hatred. Regretting his actions, he confesses that he lied to her about the rape. She no longer cares and flees from the farm, not wanting to have anything to do with him. Distressed, Don Jaime hangs himself.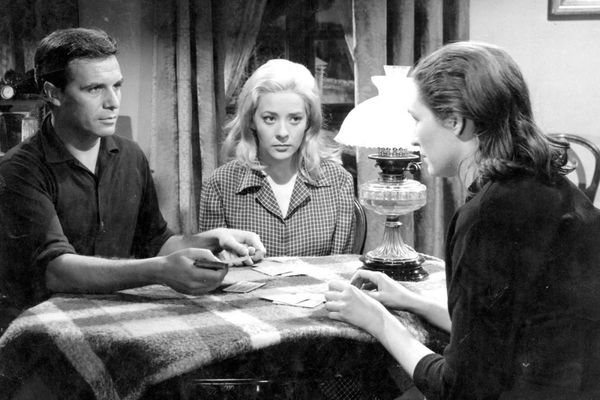 The inheritance is split between Viridiana and Don Jaime's illegitimate son, Jorge (Francisco Rabal), who arrives at the farm accompanied by his girlfriend Lucia. His relationship with the overly-pious Viridiana is strained. While he makes preparations to start farming the neglected land, Viridiana invites a group of local homeless beggars to make a home in a building on the farm. She provides them with meals and moral instruction. They repay her generosity by breaking into her home and attacking her and Jorge. The movie ends with Viridiana, having repudiated her previous identity as a "do-gooder," approaching Jorge and Ramona for what is intimated to be a ménage-à-trois. Viridiana approaches the two of them playing a game of cards. Jorge says to her, "You know, the first time I saw you, I thought, my cousin and I will end up shuffling the deck together." Although couched in euphemism, the scene leaves no more to the imagination than Lauren Bacall's instruction to Humphrey Bogart about how to whistle.
By the time Bunuel made Viridiana, his career had come to a standstill. After years of success as "the father of cinematic Surrealism," he had been living in Mexico during the Franco era. He made Viridiana after being invited back to Spain (as part of an effort by the dictator to show a friendliness towards art and its practitioners). Although it won the Palme d'Or at Cannes, it was banned in France and denounced by the Vatican. Nevertheless, it opened doors for Bunuel and led to the richest phase of his career, during which he made Belle de Jour, Tristana, and The Discreet Charm of the Bourgeoisie (among others).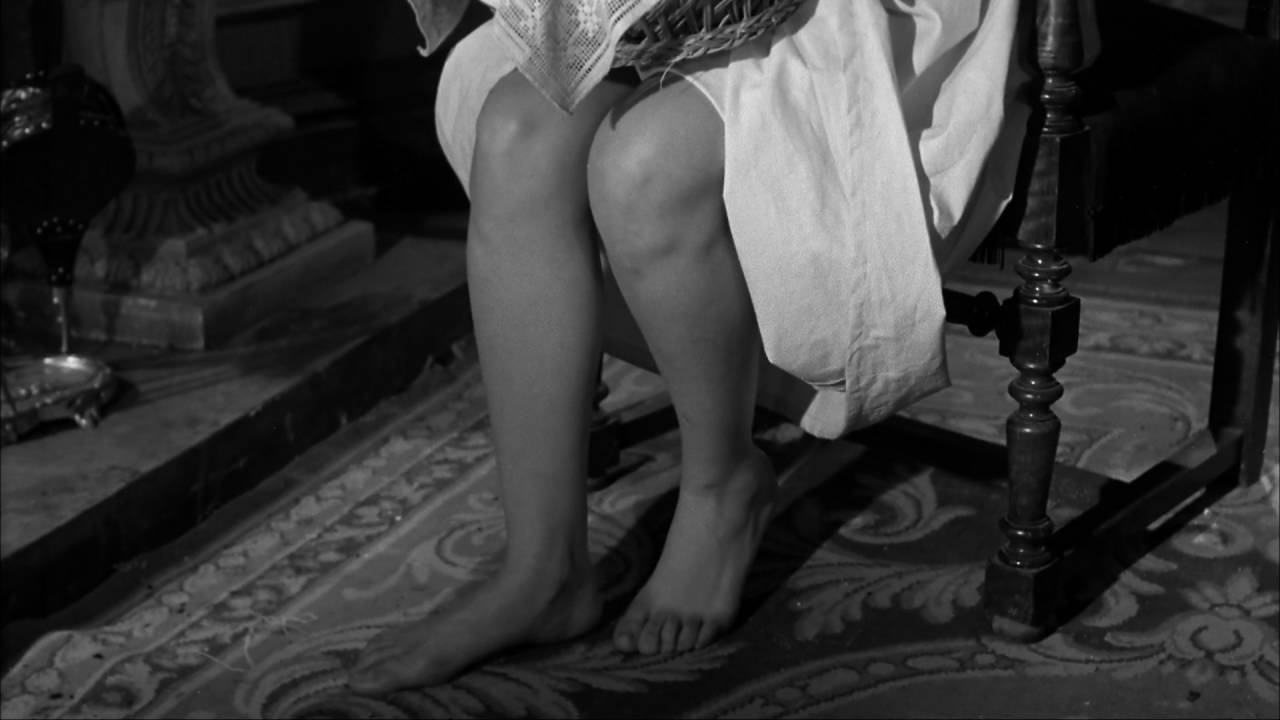 Although acting is rarely cited as one of Viridiana's strengths, it features a couple of memorable performances. The first is a supporting role for Fernando Rey, who lends an air of compassion and humanity to a creepy man. Rey is so charismatic that it's almost hard to accept Don Jaime as the deviant who emerges. In the United States, Rey would find fame a decade after Viridiana for his role in The French Connection. Following Viridiana, he became a frequent collaborator of Bunuel's and appeared in many of the director's best-known films. Silvia Pinal, whose hauntingly vulnerable yet icy portrayal of the title character would be the part for which she is best remembered, had a fertile career in Mexican cinema prior to teaming up with Bunuel for this film. She would work with him twice more: in The Exterminating Angel and the short "Simon of the Desert."
Viridiana is replete with religious and sexual symbolism, little of which is subtle: Viridiana's shyness about milking a cow, a crucifix that doubles as a knife, the banquet of the beggars being staged to resemble Da Vinci's "Last Supper" prior to their dancing to Handel's "Hallelujah Chorus." There's also fodder for those who search for evidence of Bunuel's infamous foot fetish. (According to him, he didn't have a foot fetish but he was fascinated by those who did.) For example, the camera lingers on the feet of a girl skipping rope. During the "Hallelujah Chorus," the focus is on the feet. And there are numerous unhurried shots of Pinal's bare legs and feet, including one in which she peels off stockings. Those who think Tarantino has cornered the market in this area should watch Viridiana.
With its shock value neutered as a result of the passage of time and changing morals, one could almost see parts of Viridiana as quaint (most notably the protagonist's naivete, which is at times too extreme to be believable). However, although one can argue the film's narrative merits, there's no debating its importance to other European filmmakers emerging during the 1960s.
---
Viridiana (Spain/Mexico, 1961)
---

Three...better movies of this genre
worse movies of this genre
Three...better movies of Silvia Pinal
(There are no more better movies of Silvia Pinal)
worse movies of Silvia Pinal
(There are no more worst movies of Silvia Pinal)
Three...better movies of Francisco Rabal
(There are no more better movies of Francisco Rabal)
worse movies of Francisco Rabal
(There are no more worst movies of Francisco Rabal)
Three...better movies of Fernando Rey
(There are no more better movies of Fernando Rey)
worse movies of Fernando Rey
(There are no more worst movies of Fernando Rey)