Movies starring Francois Berleand Chorus, The
The Chorus is one of those feel-good stories that Miramax Films has become expert in importing. This one is the French equivalent of Mr. Holland's Opus - the inspiring story of how a teacher comes to change the lives of his headstrong students. A...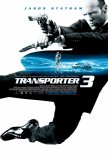 Transporter 3
The Transporter movies remind me of the Bond films of the '70s and '80s, in which each new installment tried to one-up its predecessor in terms of inventive and outrageous action set pieces. Without a doubt, Transporter 3 offers more innovative wa... Transporter, The
The Transporter is cinematic extravaganza for everyone who disdains wimpy movie elements like "plot" and "character development". This balls-to-the-walls action/adventure makes the average James Bond film look like something by Eric Rohmer. It's...