Movies starring Lindsay Sloane Over Her Dead Body
To fashion an endearing romantic comedy, there are only a few simple rules to be followed: find two likeable leads whose chemistry sizzles, provide them with a simple framework that allows them to gradually fall for each other in such a way that th...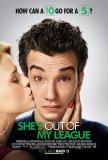 She's out of My League
There are a variety of ways one can evaluate the effectiveness of standard-order romantic comedies. Mine is to ask three questions: (1) Do I like the characters? (2) Do I sense chemistry between them? (3) Am I rooting for them to be together at t...