Movies starring Paul Muni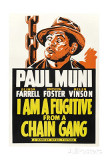 I am a Fugitive from a Chain Gang
With a title like I am a Fugitive from a Chain Gang, one might be forgiven expecting an exploitation flick, but this relic from the pre-Code era is actually a damning indictment of the American justice system during the interwar period. Although fi...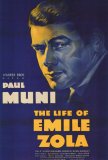 Life of Emile Zola, The
The Life of Emile Zola was the second biographical motion picture to win the Best Picture Oscar, following the previous year's The Great Ziegfeld. Although The Great Ziegfeld was in many ways better received during the '30s - in part because of th...