Movies with screenplay written by Francis Veber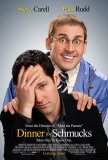 Dinner for Schmucks
There's something a little "off" with Dinner for Schmucks. The premise, borrowed from Francis Veber's 1999 French farce, The Dinner Game, hasn't improved significantly as a result of its translation into English. The film is sporadically amusing ... Dinner Game, The
It must be that I just don't get French humor, or at least not of the sort that attracts French movie-goers to theaters like bugs to bright lights. Several years ago, The Visitors became one of the top homemade box office successes in French histo... Father's Day
Fathers' Day simply has to be seen to be believed. It's beyond my comprehension how a motion picture with so much talent associated with it -- actors Robin Williams and Billy Crystal, super-producer Joel Silver, and director Ivan Reitman -- can be...