It Happened One Night (United States, 1934)
January 23, 2010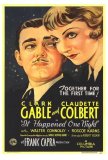 Frank Capra's It Happened One Night represents one of the great romantic comedy "templates." Although the film has officially been remade a handful of times (most not in English), its opposites-attract melding of screwball comedy and the road trip elements has become one of about a half-dozen standard love story formulas. Most years, there's at least one theatrical release that owes a debt to this film.
The movie, as originally conceived by Capra and screenwriter Robert Riskin (adapting from a short story by Samuel Hopkins Adams), was never intended to be more than an ephemeral, lighthearted romance with comedic elements. In fact, the screenplay was deemed so uninspired that several actors and actresses turned down the opportunity to appear in it and the eventual leads expressed reservations. Despite such concerns and a widespread belief that It Happened One Night was "nothing special," it went on to win all the Oscars for which it was nominated, becoming one of three films in history (to-date) to capture a victory in each of the five major categories (Picture, Director, Actor, Actress, Screenplay). Only One Flew Over the Cuckoo's Nest and The Silence of the Lambs equaled that feat. Although It Happened One Night initially did mediocre business at the box office, word-of-mouth was strong and it eventually became a hit. From an Oscar standpoint, this was easily Capra's most successful motion picture, and it arrived during a decade when the Academy Awards loved him.
As the film opens, we learn that heiress Ellie Andrews (Claudette Colbert) has eloped with adventurer King Westley (Jameson Thomas). However, before the marriage can be consummated, her father, Alexander (Walter Connolly), separates the bride from the groom. Ellie is virtually held hostage on a boat off the Florida coast, but she escapes by doing the unthinkable - jumping overboard and swimming for shore. There, incognito, she boards a bus bound for New York City, where Westley is located. She catches the attention of out-of-work newspaperman Peter Warne (Clark Gable), who's on the bus with her. The two form a pact: he'll get her to her husband so they can have a "proper" wedding if she gives him an exclusive story. Thus begins a legendary love/hate relationship.
Neither Gable nor Colbert was a first choice. Capra initially approached Robert Montgomery to play Peter, but the actor turned him down after reading the script. Claudette Colbert, who harbored ill-will toward Capra dating back to her film debut, For the Love of Mike (which Capra directed), was offered the part only after it had been rejected by Myrna Loy, Margaret Sullavan, Carole Lombard (who was involved with Robert Riskin at the time and would later marry Gable), and Loretta Young, among others. As with Casablanca, this is an instance of serendipity resulting in the best possible casting. Gable and Colbert exhibit perfect chemistry, the screenplay turned out to have more substance than either initially expected, and the resulting production was magical. Gable, who was nominated three times in the Best Actor category (also for Mutiny on the Bounty and Gone with the Wind), won his only Oscar for It Happened One Night. This was likewise Colbert's lone citation by the Academy (also out of three nominations). Gable displayed a playfulness here that was not often evident in his work and Colbert managed to make her spoilt brat character endearing.
The dual love affair of the public and the Academy with Frank Capra began a year before It Happened One Night's Oscar sweep; the director was nominated for his efforts on 1933's Lady for a Day. After that, three of Capra's next five movies earned him not only Best Director nominations, but Best Director wins. He remains the only filmmaker to have had that degree of success in such a short span. (Recall the Oscar trials of Martin Scorsese and Steven Spielberg.) Capra capped off a hugely successful decade with a nomination for his final movie of the '30s, Mr. Smith Goes to Washington. (He would receive one more Best Director nomination during his career - for 1946's It's a Wonderful Life.) His Oscar resume for the seven-year period between 1933 and 1939: five nominations, three wins. His films, which eventually earned the somewhat derogatory nickname of "Capra-corn," were beloved by the public. His sentimental outlook, the optimism with which his protagonists were presented, and his penchant for crowd-pleasing endings were welcome during the grim years of the Depression and the lead-up to World War II.
It Happened One Night was the sixth collaboration between Capra and screenwriter Robert Riskin. They would work together six more times, including on Capra's other Best Picture winner, You Can't Take It with You. A thirteenth "collaboration," 1961's A Pocketful of Miracles, which was the filmmaker's final outing behind the camera, was a remake of Lady for a Day (it was adapted from the original screenplay but featured no new contributions from the writer, who had died several years earlier). Riskin's five Oscar nominations, including his one win (for It Happened One Night), were for Capra films.
It Happened One Night did not invent the romantic comedy, but it added new layers to it. In 1985, Rob Reiner showed that, under the guidance of someone who understood the formula and could extract the best from it, the passage of time did not diminish its capacity to enthrall audiences. The Sure Thing was not a direct remake of It Happened One Night, but it owes such a debt to Capra's film that it's surprising the credits don't acknowledge Riskin.
One touchstone to emerge from the production is the "Walls of Jericho." Initially conceived because the growing influence of the Hays Code enforced a degree of morality on films, the concept of a privacy blanket draped between Peter and Ellie's sides of motel rooms would be referenced in movies and television projects for years to come. Perhaps the most offbeat instance was General Hospital's appropriation of the device as part of the now-infamous Luke & Laura romance during the summer of 1980. The conceit the same; the blanket was referred to as the "Walls of Jericho" and "an old movie" (obviously It Happened One Night) was cited as the inspiration. In the film, the consummation of the romance, which occurs during the final scene, is noted by the blowing of a horn. It's a wonder Riskin didn't name Gable's character Joshua.
Seen today, It Happened One Night feels more familiar than it did 75 years ago, but that's a case of a movie being victimized by its popularity. The number of copycat stories to have arrived over the decades with similar plots have diminished the freshness and spontaneity associated with Capra's production. Nevertheless, nothing can take away from the strength of Gable and Colbert's performances, the illusion of romance in their interaction, and Capra's deftness in crafting this kind of feel-good narrative. The screwball comedy elements work as effectively as the love story, which is a rarity for romantic comedies. The picture's success with the Academy bolsters its argument as one of the best of its kind. It is only one of five pure (non-musical) romantic comedies to win the top Oscar. (The others: You Can't Take It with You, The Apartment, Tom Jones, Annie Hall, Shakespeare in Love.)
---
It Happened One Night (United States, 1934)
Run Time: 1:45
U.S. Release Date: -
MPAA Rating:
"NR"
Genre:
ROMANCE/COMEDY
Subtitles: none
Theatrical Aspect Ratio: 1.33:1
---
Three...better movies of this genre
worse movies of this genre
Three...better movies of Clark Gable
(There are no more better movies of Clark Gable)
worse movies of Clark Gable
(There are no more worst movies of Clark Gable)
Three...better movies of Claudette Colbert
(There are no more better movies of Claudette Colbert)
worse movies of Claudette Colbert
(There are no more worst movies of Claudette Colbert)
Three...better movies of Walter Connolly
(There are no more better movies of Walter Connolly)
worse movies of Walter Connolly
(There are no more worst movies of Walter Connolly)