Movies starring Clark Gable Gone with the Wind
Last week, the American Film Institute released its list of the 100 best American films of all time. Not surprisingly, Gone with the Wind placed in the Top 10 (#4, in fact). However, although this epic romantic melodrama is undoubtedly one of...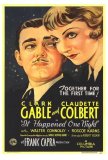 It Happened One Night
Frank Capra's It Happened One Night represents one of the great romantic comedy "templates." Although the film has officially been remade a handful of times (most not in English), its opposites-attract melding of screwball comedy and the road trip...
Mutiny on the Bounty
It's a testimony to the enduring popularity of the story of Mutiny on the Bounty that it has been represented cinematically five times. In addition to the Oscar-winning 1935 production, which is arguably the best of the bunch, there are four other...