Like Father, Like Son (Japan, 2013)
January 22, 2014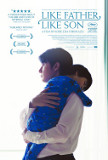 It's rare that a film of such power opens in U.S. theaters during January. Of course, when it comes to foreign-language films, the usual "rules" don't apply and the latest offering from Hirokazu Kore-eda has arrived in art houses following a successful 2013 film festival run. This is a forceful, unforgettable motion picture and, while the material contained herein may hit parents harder than movie-goers without offspring, the questions posed by Like Father, Like Son are universal in nature and the manner in which Kore-eda addresses them makes for superior drama.
The premise will be familiar to those who follow the news because, although rare, this sort of thing has been documented as occurring. It's a tale of two families. There's Ryota and Midori Nonomiya (Masaharu Fukuyama and Machicko Ono), a young Japanese couple who treasure their six-year old son, Keita, because Midori cannot have any more children. And there's Yudai and Yukari Saiki (Riri Furanki and Yoko Maki), whose six-year old son Ryusei is one of three siblings. After establishing the home dynamics of the Nonomiyas, Kore-eda introduces the twist that will drive the narrative: a call from the hospital explains that the boys, Keita and Ryusei, were switched at birth. The families meet and are introduced to their biological children. But that doesn't answer the big question: What next?
In a patriarchal society like Japan, the importance of a son cannot be overstated and for Ryota, the concept of his "true" child being raised by another family falls below the threshold of what's acceptable, especially considering that Keita isn't sufficiently "like" him - something more than a few people have remarked upon. Ryota is presented as somewhat cold and calculating in his approach to the situation but Kore-eda doesn't steal away his humanity. Ryota cares for Keita - probably more than he initially suspects. His solution is that the families switch the boys and cut off all contact with one another. It will be hard at first, he reasons but, with time, everyone will adjust. No one except Ryota thinks this is a good idea. The idea of giving up Keita and never seeing him again rends Midori's heart. She may not have given birth to the boy but she has loved him and brought him up. The Saikis are also resistant; ultimately, they don't believe it will work as the plan's engineer envisions. Nevertheless, after debating, arguing, and negotiating, everyone agrees to Ryota's scheme.
No one asks the children what they think about the situation. This isn't a failing of Kore-eda's script but a realistic depiction of what would happen in these circumstances when the wishes of a six year old wouldn't be taken into account. However painful the situation may be for Ryota, Midori, Yudai, and Yukari, they approach this as adults and are able to rationalize the conditions as such. Keita and Ryusei, however, become victims - not only are they torn from comfortable lives and forced to live with strangers but they aren't allowed to communicate with the man and women they previously called "Father" and "Mother."
There's no perfect solution in such a situation - something Kore-eda emphasizes. In fact, there might not even be a good one. Most of us would probably approach these circumstances differently than Ryota, but it's not hard to understand his mindset. Kore-eda never judges the characters or their actions; he documents them, and does so with great empathy. Few movies move me to tears; this is an exception. Yet it's not a pure example of tragedy because, as wrenching as the narrative can be at times, it breaks through to a place where the humanity of the principals is allowed to shine through.
Kore-eda is an exceptional filmmaker. His resume speaks for itself. Films like Maborosi and After Life are dreamlike experiences, rich in visual cues. Air Doll is a fable about a sex toy come to life - the premise may seem exploitative but the screenplay asks pointed questions about the meaning of existence. Still Walking is a rewarding, low-key drama. As effective as some of his earlier efforts have been, however, Kore-eda reaches a pinnacle with Like Father, Like Son. Everything about this movie - tone, pacing, acting, editing, dramatic heft - is nearly perfect. Many films, even the best of them, stay with me for days or weeks. I first saw Like Father, Like Son nearly three months ago and my impressions remain crystal clear. This is filmmaking at the highest level and well worth seeking out. (Note to those without a nearby art house: this premieres on Video on Demand on January 23, 2014.)
---
Like Father, Like Son (Japan, 2013)
Ranked #2 in Berardinelli's Top 10 of 2014Ranked #86 in Berardinelli's Top 100
Run Time: 2:01
U.S. Release Date: 2014-01-17
MPAA Rating:
"NR" (Mature Themes)
Genre:
DRAMA
Subtitles: In Japanese with subtitles
Theatrical Aspect Ratio: 1.85:1
---
Three...better movies of this genre
worse movies of this genre
Three...better movies of Masaharu Fukuyama
(There are no more better movies of Masaharu Fukuyama)
worse movies of Masaharu Fukuyama
(There are no more worst movies of Masaharu Fukuyama)
Three...better movies of Machicko Ono
(There are no more better movies of Machicko Ono)
worse movies of Machicko Ono
(There are no more worst movies of Machicko Ono)
Three...better movies of Yoko Maki
(There are no more better movies of Yoko Maki)
worse movies of Yoko Maki
(There are no more worst movies of Yoko Maki)