Rust Creek (United States, 2019)
January 07, 2019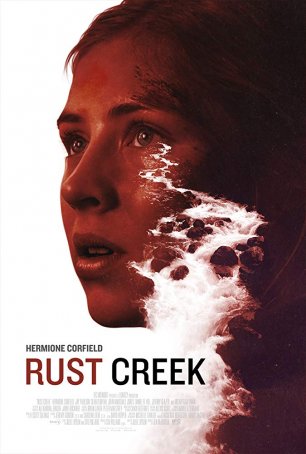 Rust Creek, an uneven but ultimately satisfying thriller from indie director Jen McGowan, seamlessly blends horror and thriller elements across its 108-minute running time. The story unfolds in two acts, with the opening one (which comprises about the first half hour) being superior to the longer episode that follows. Although there are times when the story meanders, two aspects remain strong throughout: the committed performance by lead actress Hermione Corfield and the vivid images captured by the lens of cinematographer Michelle Lawler.
A brief prologue introduces college student Sawyer (Corfield), who is about to embark on a Thanksgiving car trip from her midwestern university to Washington D.C. for an "in the bag" job interview. Things start out poorly – a traffic jam causes Sawyer to abandon the interstate for a GPS-determined "detour" that places her on back roads in the middle of Kentucky's deepest rural country. When the GPS stops recalculating, she's forced to rely on an old-fashioned map; that's when she's approached by two grungy men, Hollister (Micah Hauptman) and Buck (Daniel R. Hill), who don't have her best interests at heart. Following a brief struggle in which she suffers a knife wound to the leg, Sawyer's fight-or-flight instinct takes her into the woods to the nearby Rust Creek. She is able to hide from her pursuers but her leg is bleeding and she can barely stand on it.
This segment of the film, with the injured Sawyer avoiding the armed and dangerous predators, is an intense piece of filmmaking, keeping the viewer on edge while creating a bond with the protagonist. What follows, although offering some unconventional narrative beats, is a mostly generic crime movie, with oddball supporting characters, police corruption, and drug running. We even learn a little about the intricacies about cooking meth. (I can't vouch for their accuracy.) This part of the movie is, by its nature, less riveting than the opening, and some of the detours from the main storyline feel unnecessary. In order to tell the "whole" story (with its double-crosses and unlikely alliances), the filmmakers feel that it's necessary to present scenes from perspectives other than Sawyer's and the movie doesn't work as well when she's not on screen.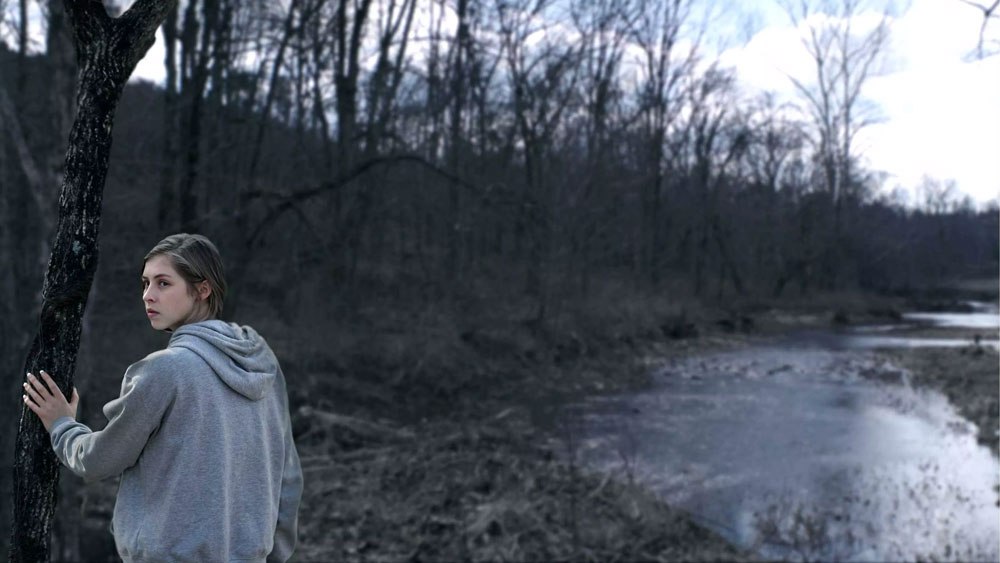 Two notable elements relate to how Rust Creek defies genre conventions – a welcome departure for a film slated for horror/thriller categorization. The movie has no superheroes – when people are hurt, they feel the impact of their injuries. Sawyer's leg wound isn't something she shakes off as a minor inconvenience. It becomes a serious issue both in terms of pain management and blood loss. She isn't ready to run a marathon five minutes after it happens. Another staple rejected by the screenplay is having the protagonist engage in stupid activities and make dumb decisions in order to advance the story. Everything Sawyer does makes sense. The negative consequences don't feel preordained. There are no jump-scares or similar techniques incorporated exclusively to generate artificial tension.
Rust Creek makes good use of the setting – the woods of Kentucky are presented in such a way as to achieve equal importance with any of the secondary characters. From an acting standpoint, Corfield is the foundation. She is believable as a self-assured college student who finds herself in increasingly desperate circumstances. She captures Sawyer's resiliency and determination while not losing the vulnerability demanded by being alone, hurt, and hunted in the middle of nowhere. Rust Creek loses some of its steam and originality during the second half but it starts at a high enough level that, even with some slippage, it's worth staying until the end.
---
Rust Creek (United States, 2019)
---

Three...better movies of this genre
worse movies of this genre
Three...better movies of Hermione Corfield
(There are no more better movies of Hermione Corfield)
worse movies of Hermione Corfield
(There are no more worst movies of Hermione Corfield)
Three...better movies of Jay Paulson
(There are no more better movies of Jay Paulson)
worse movies of Jay Paulson
(There are no more worst movies of Jay Paulson)
Three...better movies of Micah Hauptman
(There are no more better movies of Micah Hauptman)
worse movies of Micah Hauptman
(There are no more worst movies of Micah Hauptman)