Three Colors: Blue (France/Poland/Switzerland, 1993)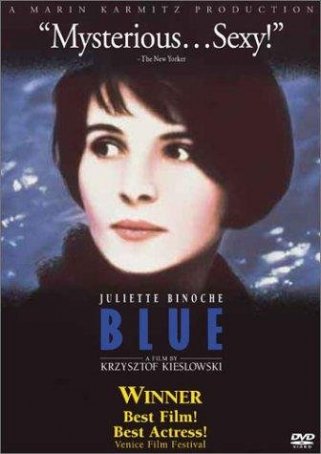 "Blue, liberty; White, equality; Red, fraternity. We wanted to show what these well-known historical notions mean to us today, who already possess liberty, who are already equal, and for whom fraternity is a common ideal. Therefore, in Blue, liberty is not treated in a social or political way...but if we talk about liberty, we mean individual liberty, the liberty of life itself."
- Writers Krzysztof Kieslowski and Krzysztof Piesiewicz

One moment, Julie (Juliette Binoche) had everything; the next, her husband and daughter have been killed in a car accident and her own face is a patchwork of lacerations. The physical recovery proves less difficult than the emotional one, and Julie ends up selling her house, burning her late composer-husband's compositions, putting her mother in a home, and running off to live in relative anonymity, with "no memories, no love, no children." Life, however, is intent on forcing Julie to confront certain elements of her past that she might rather not face.
Blue, the first of Krzysztof Kieslowski's "colors" trilogy (White and Red have recently been completed, marking the director's farewell to the industry, as he has announced his retirement), is a powerful motion picture - both in terms of its dramatic impact and in its method of presentation.

Reminiscent of Fearless in the manner that it handles the transformation of an individual through a life-altering tragedy, Blue delves deeply into the psyche of Julie and leads us to examine our own perspectives on life, loneliness, and liberty as we watch her cope with her new, and dramatically different, existence. We are also reminded that control is frequently an illusion.
Juliette Binoche, in what amounts to a one-woman show, turns in her best performance since The Unbearable Lightness of Being, and arguably her most accomplished ever. She manages to bring an element of humanity and sympathy to a potentially unsympathetic character. There is little in Julie, as written, for the audience to latch onto, but Ms. Binoche provides the emotional link to the story.
Along with director of photography Slawomir Idziak, Krzysztof Kieslowski has created one of the most technically impressive productions in recent years, rivaling Martin Scorsese's The Age of Innocence for sheer visual impact. Mr. Kieslowski uses light and shadow like a painter uses his pallet, and even some of the most simple images - such as a sugar cube absorbing coffee - are memorable. Then there's the use of color - and one color in particular. In addition to blue filters and blue lighting, any number of objects are blue - a foil balloon, a tinted window, awnings, a folder, the walls of a room, coats, skirts, scarves, blouses, jeans, shirts, trash bags, crystals, a lollypop and its wrapper, binders, graffiti, a pool, a van, and a pen. Each use of the title color underlines the central messages.
Lately, a number of French imports have had music as a common element. These have included such titles as Tous Les Matins du Monde, Un Coeur en Hiver, The Accompanist, and now Blue. Mr. Kieslowski makes use of Zbigniew Preisner's grand score in the same innovative fashion that he molds the visual facets of his project. The music mirrors the actions.
Coping with loss and trying to build life anew is certainly not a unique theme, but the manner in which Blue portrays one woman's journey along this path is fresh and eye-opening. As rich in emotional impact as in style, this motion picture sets a high standard that we as viewers can only hope the other two chapters of the trilogy will match.
---
Three Colors: Blue (France/Poland/Switzerland, 1993)
Ranked #9 in Berardinelli's Top 10 of 1994
---
Three...better movies of this genre
worse movies of this genre
Three...better movies of Juliette Binoche
worse movies of Juliette Binoche
Three...better movies of Benoit Regent
(There are no more better movies of Benoit Regent)
worse movies of Benoit Regent
(There are no more worst movies of Benoit Regent)
Three...better movies of Florence Pernel
(There are no more better movies of Florence Pernel)
worse movies of Florence Pernel
(There are no more worst movies of Florence Pernel)