Whisper of the Heart (Japan, 2019)
June 30, 2019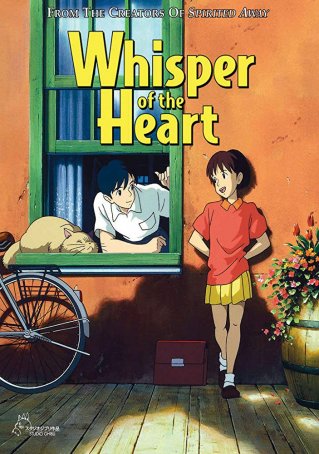 Whisper of the Heart was the first Studio Ghibli feature not to be directed be either of the co-founders, Hayao Miyazaki or Isao Takahata, although director Yoshifumi Kondo worked from a screenplay and storyboards credited to Miyazaki. Not unlike Takahata's Only Yesterday, which was released four years earlier, this film possesses a narrative that could easily have received a live-action adaptation. Taken in concert, these productions signaled a new era in Japanese animation. If a simple coming-of-age tale like this was to be produced today in the United States by Disney/Pixar, it would be hailed as "risky" and "groundbreaking."
The strength of Whisper of the Heart is the way it speaks to the viewer. Many animated films are pitched at kids and, as such, often seem condescending. There's nothing of that sort here. The movie draws images and sensations from our memories with such precision that we may find ourselves reliving parts of our own childhood as we watch the story unfold. Little things like first crushes, unrequited love, and trying to find one's "true talent" are addressed in an unforced, earnest way by Whisper of the Heart. One warning, however: to appreciate the film, you have to like (or at least tolerate) the John Denver song "Take Me Home, Country Roads." The movie opens with the Olivia Newton-John rendition and goes on from there, with the song evolving to have different lyrics. (A literal translation into Japanese proves awkward.)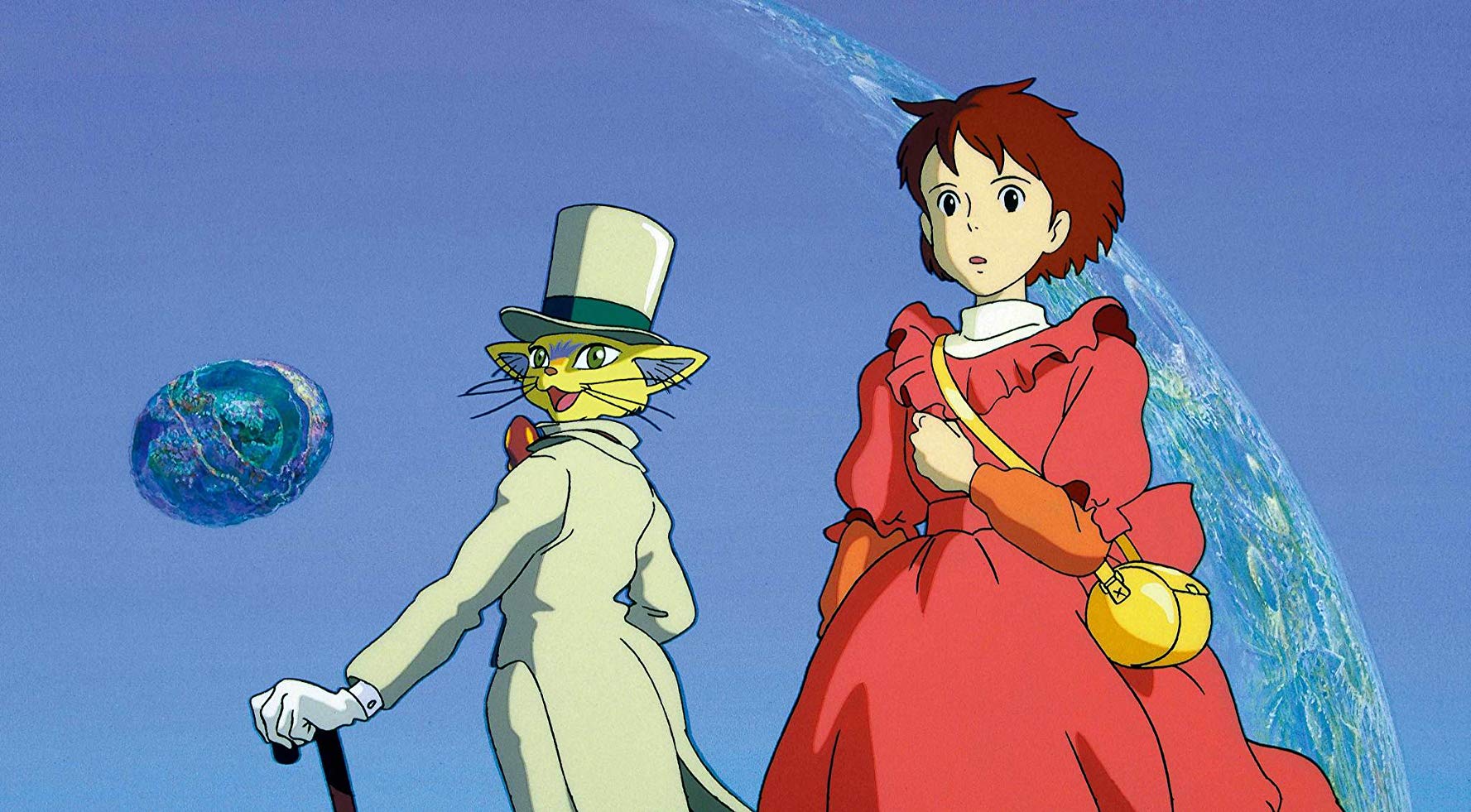 To the extent that Miyazaki's influence is evident, it comes during the fantasy sequences that illustrate the novel written by the main character. These feature the adventures of a talking cat statue in search of his lost love. These scenes feel like the product of the man who brought My Neighbor Totoro to the screen and spent large portions of his career working with anthropomorphic creatures.
Whisper of the Heart's protagonist is 14-year old Shizuku Tsukishima (Yoko Honna), a budding writer who spends most of her free time with her nose buried in a book. Of course, being in junior high school, she has a difficult social structure to navigate (one that involves a lot of blushing, as shown by reddish patches on her cheeks). Her best friend, Yuko Harada (Maiko Kayama) has a crush on her male friend Sugimura (Yoshimi Nakajima), who confesses that he "likes" Shizuku. Meanwhile, Shizuku develops a romantically-tinged relationship with loner Seiji Amasawa (Issei Takahashi) who has been (for lack of a better term) stalking her (although not in a threatening way).
Seiji's grandfather owns an antiques store. Two items capture Shizuku's attention: a statue of a cat – curiously named Baron Humbert von Gikkingen – and an intricate clock. Seiji and Shizuku talk wistfully about their dreams and hopes and he reveals that he's going to Italy for two months to study violin-making. While he's gone, Shizuku commits herself to writing to the exclusion of almost everything else. Her story is a fable based around the adventures of The Baron.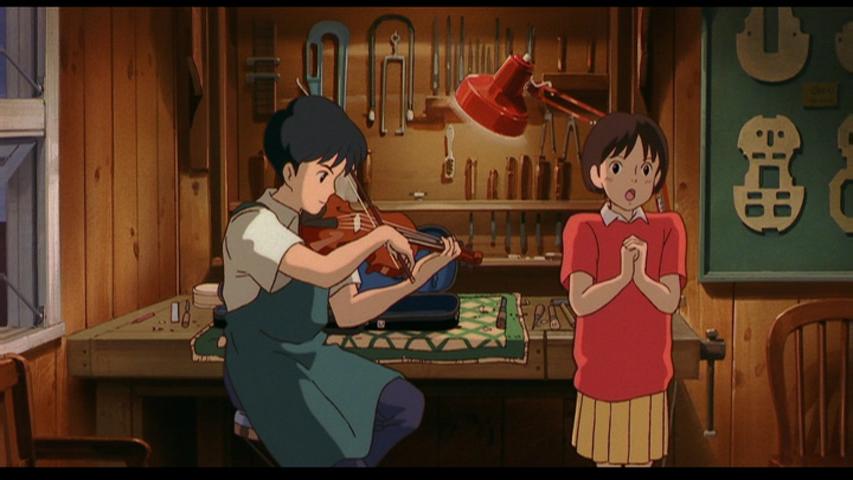 Although the portions of Whisper of the Heart featuring the Baron (all of which occur during the film's second half) are engaging, the movie's strength lies in its portrayal of Shizuku, her world, and the people inhabiting her inner circle. These are sufficiently evocative to pull in the viewer as powerfully as any live-action production but with the dreamlike aura that automatically accompanies animation. The degree of universality in the presentation of Shizuku is surprising – a reminder that many of the most basic elements of humanity stretch across cultural and gender divisions.
The artwork represents some of the best available in any Studio Ghibli feature to that date while reflecting the "style" that Miyazaki would continue to refine over the next two decades. The richly detailed background paintings give character and depth to the setting. Whisper of the Heart's design has a warmth that can't be found in any of today's computer-generated animated films (no matter how technically advanced they may be).
The film's director, Yoshifumi Kondo, had been tapped by Miyazaki as a possible successor. He worked aside the master animator for many of the latter's early projects. He was the animation director for Grave of the Fireflies, Kiki's Delivery Service, Only Yesterday, and Princess Mononoke. His only credit as director was Whisper of the Heart. He died of an aneurism in 1998 at the age of 48, cutting short a promising career and provoking Miyazaki to announce his first retirement.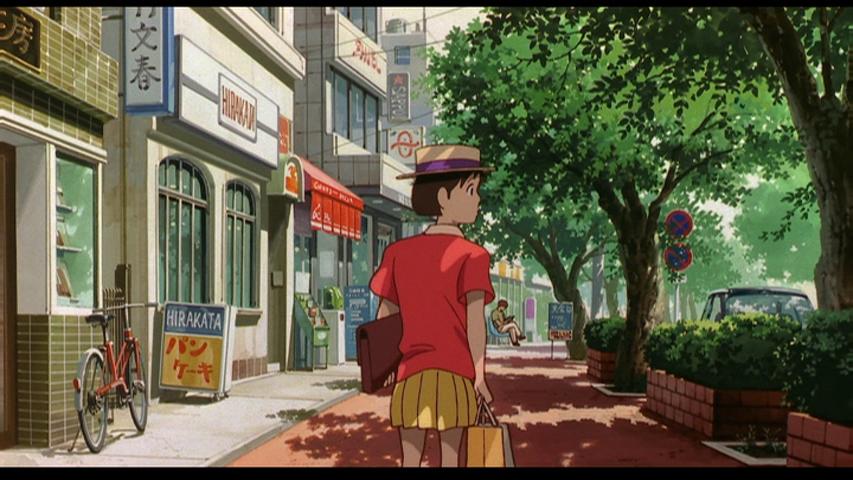 Like many of Studio Ghibli's early releases, Whisper of the Heart was phenomenally successful in Japan but provoked little notice internationally. It was part of the Disney-licensed catalog and an English-language version was produced in 2006 with voice roles for Brittany Snow (Shizuku), David Gallagher (Seiji), Cary Elwes (The Baron), and Ashley Tisdale (Yuko). As is universally the case with Studio Ghibli releases, the optimal way to watch is in the original Japanese with English subtitles, but the English-language dub is fine for those who (a) don't feel like reading subtitles or (b) are too young to read subtitles. Fathom Events released the film theatrically in early July 2019 as part of an ongoing Miyazaki festival.
Whisper of the Heart represents one of Studio Ghibli's best "obscure" films made before Princess Mononoke finally allowed Miyazaki to experience his international breakthrough. An affecting and endearing collaboration between Miyazaki and Kondo, it weds a coming-of-age story with a flight of fancy to good effect. Although often overshadowed by more popular titles in the Studio Ghibli catalog, this is as deserving as any 1990s Japanese animated film to be seen and enjoyed.
---
Whisper of the Heart (Japan, 2019)
---

Three...better movies of this genre
worse movies of this genre
Three...better movies of Yoko Honna
(There are no more better movies of Yoko Honna)
worse movies of Yoko Honna
(There are no more worst movies of Yoko Honna)
Three...better movies of Issei Takahashi
(There are no more better movies of Issei Takahashi)
worse movies of Issei Takahashi
(There are no more worst movies of Issei Takahashi)
Three...better movies of Shigeru Tsuyuguchi
(There are no more better movies of Shigeru Tsuyuguchi)
worse movies of Shigeru Tsuyuguchi
(There are no more worst movies of Shigeru Tsuyuguchi)