Kiki's Delivery Service (Japan, 1989)
January 03, 2019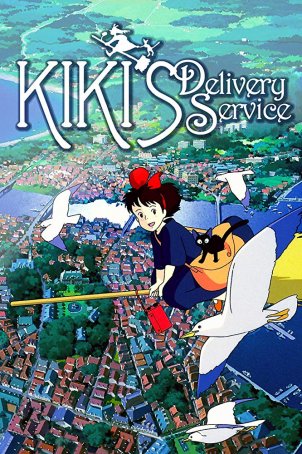 Kiki's Delivery Service is arguably among the "lesser" films of Hayao Miyazaki. Although considerably more arresting that the average animated kids' movie, Kiki's Delivery Service isn't on the same level as My Neighbor Totoro, Castle in the Sky, Spirited Away, Princess Mononoke, or The Wind Rises. A simple story that functions equally as a coming-of-age tale and a parable about friendship, Kiki's Delivery Service features many of the traits that mark Miyazaki's productions as beloved while lacking the emotional depth that elevates the best of them.
Kiki (voice of Minami Takayama in the Japanese version) is a 13-year old witch and, as with all girls of that age, she must travel to a distant town and spend a year learning her craft. After saying goodbye to her mother (Mieko Nobusawa) and father (Koichi Miura), she hops on board her broom accompanied only by her familiar spirit, the talking black cat Jiji (Rei Sakuma). Her choice for a new home is the oceanside city of Koriko. After initially being greeted by reactions varying from indifference to near-hostility, Kiki begins to despair. That's when she meets Osono (Keiko Toda), the proprietress of a local bakery who offers Kiki a room and an opportunity to start her own business: using her flying ability to deliver goods across the city and into the nearby environs. (Think of her as a magical precursor to FedEx.) Along the way, she befriends several of her customers and the boy Tombo (Kappei Yamaguchi), who is obsessed with flying. She eventually learns the importance of permanent friendships as she begins to outgrow her childhood.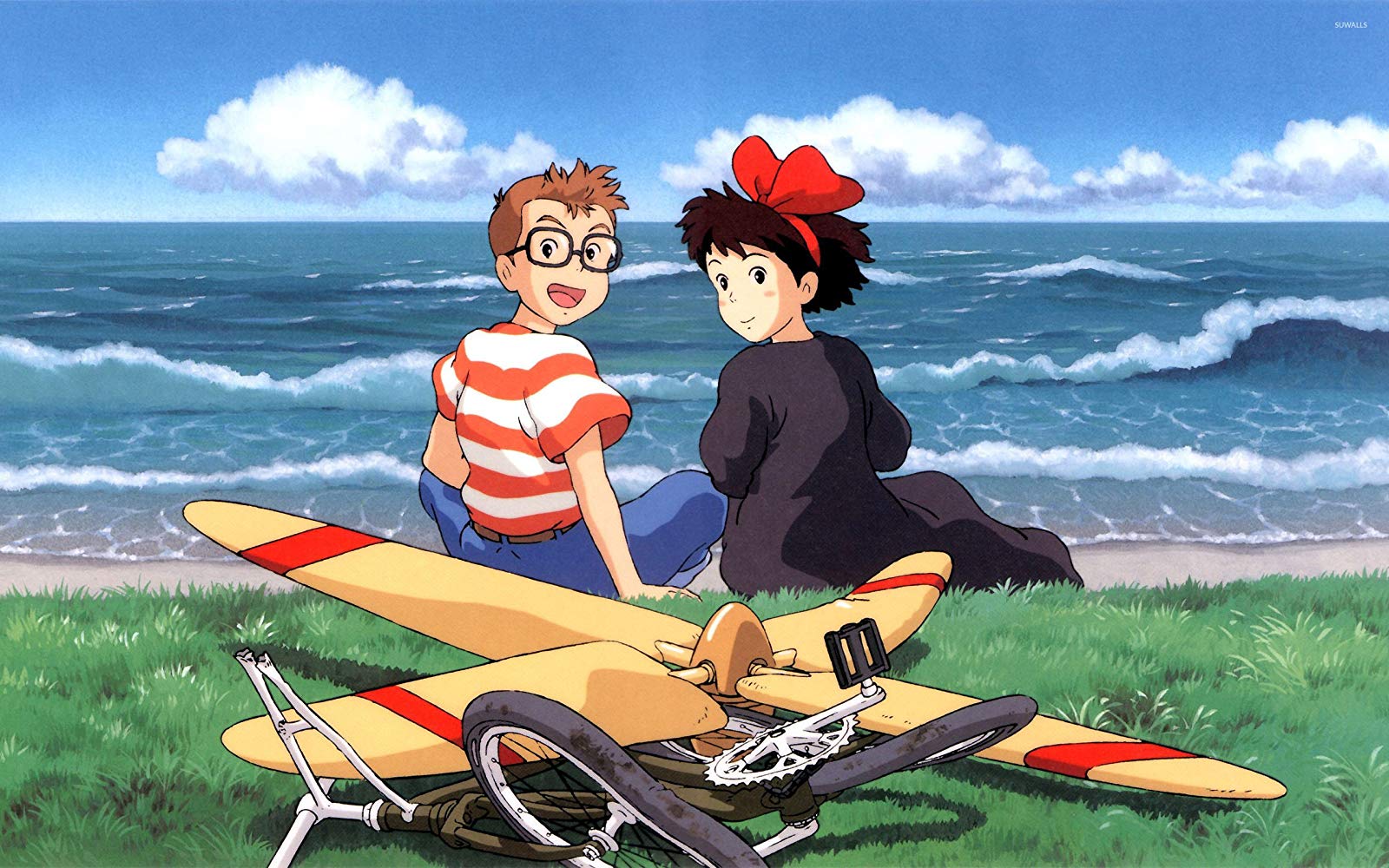 The story, based on the novel by Eiko Kadono, transpires in an alternate universe Earth where the world wars never happened. The fictional Koriko is in Europe, situated between the Mediterranean and Baltic Seas, and features elements of a variety of cosmopolitan international cities: Stockholm, Visby, Lisbon, Paris, San Francisco, and Milan. The film's hand-painted backdrops give the movie an artistic sensibility, almost as if the characters are moving around on a vast canvas where a master artist has been at work. The animation is less "busy" than some of Miyazaki's more complex films, with more simply drawn characters and less detail in both the foreground and background.
By focusing on a critical year in Kiki's life, Kiki's Delivery Service chronicles the development of the main character from a naïve girl into a young woman of some sophistication. After several missteps, she finds her place and purpose in the world when her simple acts of kindness bring happiness to an elderly customer and a daring rescue allows her to save the life of a friend. The film hints at the beginnings of a romance between Kiki and Tombo but nothing is explicit. Kiki also connects with a painter who uses her as a model. The most obvious evidence of Kiki's evolution comes when she loses the ability to communicate with Jiji. Like many of the magical, mystical aspects of childhood that fall away with the passage of time, Jiji's recognizable speech devolves into meows.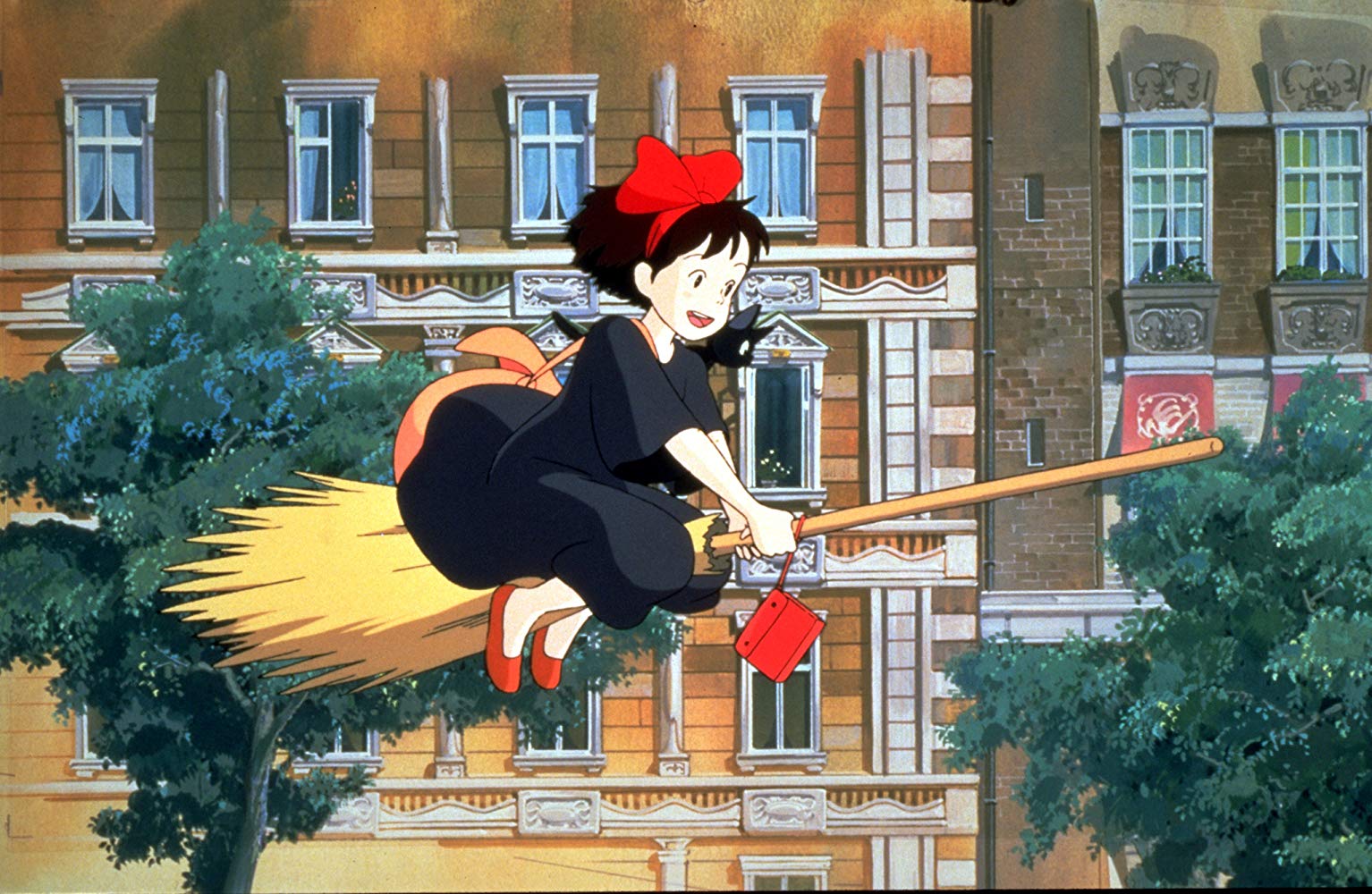 As was the case with many of Miyazaki's early (pre-1990s) films, Kiki's Delivery Service was not accorded a wide North American theatrical distribution. It was part of the package of Miyazaki productions whose U.S. rights were acquired by Disney for DVD release in 1998. With dubbed voices provided by Kirsten Dunst, Phil Hartman, Janeane Garofalo, and Debbie Reynolds, the English-language version suffered from minor changes that irritated purists, many of which were fixed in the subsequent 2010 release. (The so-called "dub-titles" were also corrected at this time, using an accurate translation of the Japanese screenplay rather than relying on the dub script.) As is true with most of Miyazaki's films, the best way to experience Kiki's Delivery Service is in the subtitled Japanese. However, for younger viewers who may have difficulty reading, the dubbed version is fine. (Although Phil Hartman's vocal interpretation of Jiji is much different than Rei Sakuma's, illustrating how important the voicework can be in defining a character.)
Kiki's Delivery Service won a number of international animation awards and its Japanese box office success continued to cement Miyazaki's reputation in the industry (the film came between My Neighbor Totoro and Porco Rossi). Charming and fully appropriate for viewers of all ages, Kiki's Delivery Service re-enforces the idea from Totoro that animated movies don't require villains to enthrall and entertain.
---
Kiki's Delivery Service (Japan, 1989)
---

Three...better movies of this genre
worse movies of this genre
Three...better movies of Minami Takayama
(There are no more better movies of Minami Takayama)
worse movies of Minami Takayama
(There are no more worst movies of Minami Takayama)
Three...better movies of Rei Sakuma
(There are no more better movies of Rei Sakuma)
worse movies of Rei Sakuma
(There are no more worst movies of Rei Sakuma)
Three...better movies of Kappei Yamaguchi
(There are no more better movies of Kappei Yamaguchi)
worse movies of Kappei Yamaguchi
(There are no more worst movies of Kappei Yamaguchi)