Movies starring Brian Boland Death of a President
It has been one of the hottest tickets everywhere in North America where it has been shown. Now, placed in a limited number of U.S. theaters despite the near-solidarity of a chain multiplex ban, the movie is opening less than two weeks before Elec...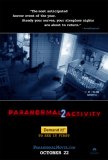 Paranormal Activity 2
Regardless of how it performs at the box office, this much is clear: Paranormal Activity 2 is a mistake. The clumsy and obvious byproduct of the financial success of its predecessor last Halloween, this movie has no reason for existing except to p...