Movies starring Celeste Holm All about Eve
All About Eve possesses one of the best screenplays ever to grace the silver screen. It also has one of the best performances by an actress in the history of Hollywood features. For his writing, Joseph Mankiewicz was honored by the Academy of Moti...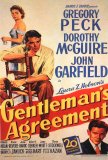 Gentleman's Agreement
In 2010, anti-Semitism exists (witness Mel Gibson's drunken rant for an overt example), but in 1947, it was ingrained in the bedrock of society. The strides made by American culture during the past 60-plus years have advanced the level of toleranc...