Movies starring Jean-Pierre Bacri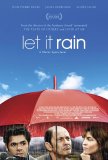 Let it Rain
Let it Rain, a French film that has taken two years to reach North American theaters (a testimony to how poor the market is these days even for well-made, high-profile foreign fare), makes the case that simplicity in a motion picture can be a good ... Look at Me (Comme une image)
At first glance, Look at Me appears to be a standard French drama about a dysfunctional family. All the elements are in place: the domineering father whose celebrity status has made him indifferent to the needs of his family, the meek trophy wife,... Un Air de Famille
Un Air de Famille, the fourth film from French director Cedric Klapisch, is a study of a dysfunctional family on the verge of blowing apart. While this isn't exactly an original topic, Klapisch's approach is vastly different from what we have come...