Movies starring Michael Rosenbaum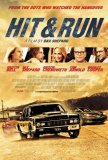 Hit & Run
For an action comedy, it's generally advisable that the movie be (a) exciting, (b) funny, or (c) both of the above. In the case of Hit & Run, the unfortunate choice is (d) none of the above. A slow, meandering misfire of a movie, this co-directoria... Kickin' It Old Skool
I hope Jamie Kennedy has a huge fan base because I can't see anyone else paying hard-earned money to sit through this. Perhaps my expectations are too high, but when I go to see something billed as a "comedy," I don't expect to have to wait until ...