Movies with cinematographer James Mather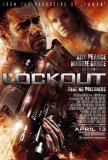 Lockout
Lockout is painful. Not painful in the way Uwe Boll or Sex and the City movies are painful. But painful enough that I kept waiting for Nicolas Cage to show up. Or Katherine Heigl. Or, god forbid, both. Instead, however, we have Guy Pearce and Maggi... U.S. Versus John Lennon, The
As a snapshot of the U.S. cultural scene during the late 1960s and early 1970s, The U.S. Versus John Lennon is a success. As an opportunity to hear some of Lennon's solo songs within a political context, the movie works. Unfortunately, as a piece...