Movies directed by Andrew Adamson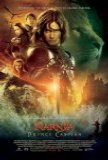 Chronicles of Narnia, The: Prince Caspian
For the second installment of The Chronicles of Narnia, director Andrew Adamson has caught a severe case of Lord of the Rings-itis. While the 2005 adaptation of The Lion, the Witch and the Wardrobe kept close to the tone of the book, Prince Caspia... Shrek
Dreamworks Pictures' wonderful, whimsical Shrek proves to be the latest family film to live up to its billing. With its blend of high adventure, light romance, and double-layered dialogue (which will take on a slightly different meaning for the un... Shrek 2
A certain amount of credit must be given to the filmmaking team behind Shrek 2 for overcoming a seemingly insurmountable obstacle and producing an entertaining motion picture. That obstacle is the ending of the original Shrek, which neatly wrapped...