Movies directed by Penny Marshall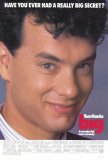 Big
Big came out of nowhere during the summer of 1988 and captured universal raves. More than two decades later, despite indications of dating, it remains a popular motion picture, in large part because it's one the few "body swap" movies - a popular ... Preacher's Wife, The
Henry Koster's 1947 release, The Bishop's Wife, earned Academy Award Nominations for both Best Picture and Best Director. Starring Cary Grant as an angel sent to earth to aid a struggling cleric, the film, which combines elements of Charles Dicken...