Bon Voyage, Charlie Brown (United States, 1980)
August 11, 2020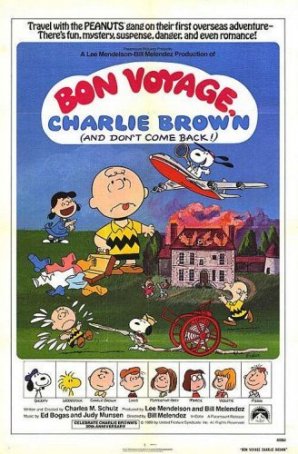 Bon Voyage, Charlie Brown (full title: Bon Voyage, Charlie Brown (and Don't Come Back!!)) was the fourth and final theatrical film featuring the Peanuts gang to be overseen by their creator, Charles M. Schultz. Between 1969 and 1980, Charlie Brown and the gang made four visits to movie theaters: A Boy Named Charlie Brown (1969), Snoopy Come Home (1972), Race for Your Life, Charlie Brown (1977), and Bon Voyage, Charlie Brown. Thereafter, Schultz's animated characters took a long hiatus, not returning to the big screen until 2015's The Peanuts Movie. In between, however, Charlie Brown and the others continued the successful TV career that had begun with 1965's A Charlie Brown Christmas. Over the years, there would be more than forty TV specials, many in prime time. That has to be some kind of record.

Excepting The Peanuts Movie, none of the big screen Charlie Brown tales have come close to matching the TV specials for whimsy and enjoyability. It's not difficult to discern the reason. "Peanuts" began its life as a daily comic strip in 1950 (with the Sunday editions starting in 1952) and continued in that format for fifty years. (The final strip was published the day after Schultz died of colon cancer.) To translate something that concise into a feature-length motion picture proved to be difficult at best. The TV specials, with only 20-25 minutes to fill, were able to master the task but, at 75 minutes, it was a strain for Bon Voyage, Charlie Brown.
By adapting vignettes from the newspaper comics, Schultz keeps the tone recognizable and some of the episodes are entertaining in their own right. (My favorite is when Snoopy pays a visit to Wimbledon.) However, the umbrella story, about four of the Peanuts characters visiting France as part of an exchange student program and Charlie Brown learning a few family secrets, isn't interesting. The film's appeal is a combination of nostalgia and appreciation of the characters. There's a sense that, in this movie, Schultz may be trying to "grow" the universe inhabited by Charlie and his friends. If that's the case, the results are mixed and, after this, the next time Peanuts appeared on the big screen was in a vastly different form.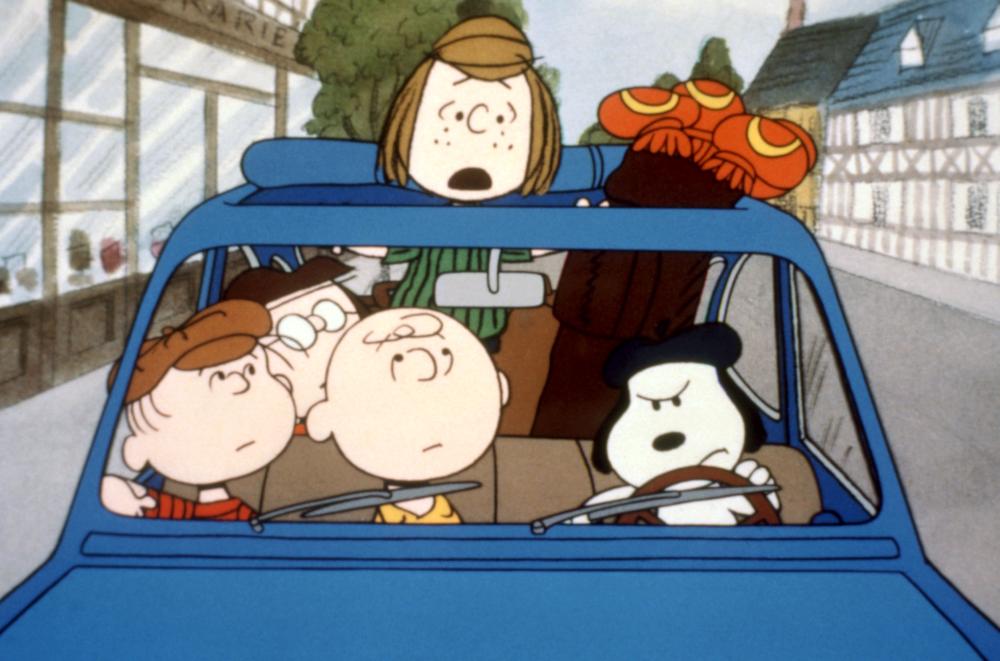 Bon Voyage, Charlie Brown is the most real any Charlie Brown cartoon (whether in theater or on TV) has gotten – to the extent that one can call a property with an anthropomorphic dog and bird "real." The movie delves into real-world history, exploring Charlie Brown's family tree by revealing that his grandfather fought in World War I and became friendly with a French girl. (All above board, of course – this is "G" rated material after all. They didn't have an affair and, although they remained friends, each married someone else.) This is also a rare instance in which adults are represented as normal, animated figures. They are given lines of dialogue and, when they speak, their words are intelligible (instead of the normal honking gibberish).

The conceit that brings Charlie Brown (Arrin Skelley) to Europe is that he, Linus (Daniel Anderson), Peppermint Patty (Patricia Patts), and Marcie (Casey Carlson) are selected to participate in an exchange student program. Also along for the ride, of course, are Snoopy and Woodstock (whose "voices," as always throughout the series, are provided by producer/director Bill Melendez). The downside of this narrative is that popular Peanuts characters like Lucy, Sally, and Schroeder are limited to having cameos. It might have been better to replace Patty with Lucy and Marcie with Sally since Lucy is a better foil for Charlie Brown than Patty, although their antics when forced to share a desk in a French classroom are classic.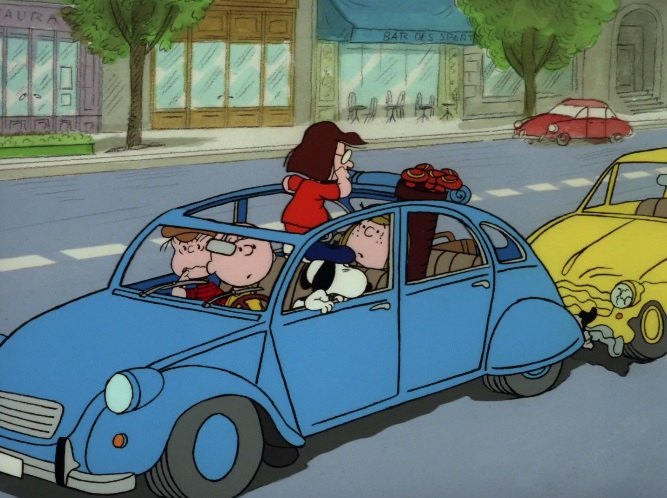 Bon Voyage, Charlie Brown is an improvement over its immediate predecessor, Race for Your Life, Charlie Brown. The artwork is slightly improved, although it does little to spice up the simple renderings of the characters. The backgrounds show more detail, but the movie is still light years behind any other animated properties being developed for theatrical release. (Around the same time in Japan, Miyazaki was making Castle of Cagliostro.) Musically, the score by the duo of Ed Bogas (who worked on Race for Your Life) and Judy Munsen feels incomplete without incorporating any of Vince Guaraldi's iconic themes. (To be fair, there was a period of time following Guaraldi's death in 1976 when the series moved on without him. It was only in the mid-'80s that the producers realized how integral his music was and other composers started to use some of his pieces – particularly "Linus & Lucy" – in their soundtracks.)

At its best, Bon Voyage, Charlie Brown captures the flavor of the beloved comic strip gang but the stew is overcooked and things start to drag after a jaunty first half-hour or so. Overall, this is more for "Peanuts completists" than those looking to get a quick Charlie Brown fix.
---
Bon Voyage, Charlie Brown (United States, 1980)
---

Three...better movies of this genre
worse movies of this genre
Three...better movies of Arrin Skelley
(There are no more better movies of Arrin Skelley)
worse movies of Arrin Skelley
(There are no more worst movies of Arrin Skelley)
Three...better movies of Daniel Anderson
(There are no more better movies of Daniel Anderson)
worse movies of Daniel Anderson
(There are no more worst movies of Daniel Anderson)
Three...better movies of Patricia Patts
(There are no more better movies of Patricia Patts)
worse movies of Patricia Patts
(There are no more worst movies of Patricia Patts)